other titles...
See also...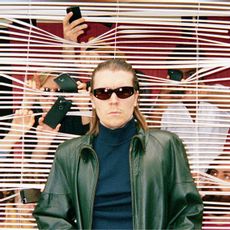 Candy May
Country Figs
Runnin' Outta Luck
Stranger's Kiss (feat. Angel Olsen)
True Lies
Studmuffin96
The Chihauhua
The Hacienda
Marlon Brando
Politics of Love
Alex Cameron
Forced Witness
Secretly Canadian
juxtaposing a cheesy synthpop dance-iness with a brutally honest lyrical eye for the world in which we live, this is relentlessly catchy & far deeper than it appears upon first glance – a guiltless pleasure.
these tracks at first seem shamelessly entertaining, the driving rhythms & rousing melodies embellished at every turn by Roy Molloy's warm hornwork. But the love songs & anthems of personal resilience contain as much raw humanity as they do a savvy grasp of the impossible loneliness of the times, especially apparent in the song 'Stranger's Kiss' - Cameron's affecting duet with Angel Olsen. this electro pop will appeal to fans of ariel pink and soft hair. "Cameron lets his vocal range soar on 'Forced Witness', where he not only expands his flat, baritone vocals, but the instrumentations that surround it, which grow increasingly ambitious & complex" 7.5/10 – line of best fit.