Super Furry Animals
Radiator (20th Anniversary Remaster)
BMG Rights Management (UK) Ltd
---
on its 20th anniversary, the acclaimed Welsh indie rockers' seminal 2nd album 'Radiator' gets the remaster it deserves.
A fusion of power pop, punk rock, techno and progressive rock - creating a shimmering, melodic, irreverent and artsy rock & roll. A heady, impressive kaleidoscope of sounds that create an intoxicating, otherworldly atmosphere. this was one of the late-'90s' most inventive, vibrant, and utterly contemporary albums. ***The 2CD version comprises the original 1997 album beautifully remastered from the analogue tapes + B-sides, alternate versions and unreleased demos. Extended CD booklet includes booklet notes with new band interviews.***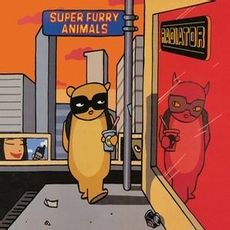 Tracklist
Radiator (2017 remaster) – 2CD deluxe edition
CD 1 – Album plus bonus tracks
1. FURRYVISION™
2. THE PLACID CASUAL
3. THE INTERNATIONAL LANGUAGE OF SCREAMING
4. DEMONS
5. SHORT PAINKILLER
6. SHE'S GOT SPIES
7. PLAY IT COOL
8. HERMANN ♥'S PAULINE
9. CHUPACABRAS
10. TORRA FY NGWALLT YN HIR
11. BASS TUNED TO D.E.A.D
12. DOWN A DIFFERENT RIVER
13. DOWNLOAD
14. MOUNTAIN PEOPLE
ICE HOCKEY HAIR E.P.
15. SMOKIN'
16. ICE HOCKEY HAIR
17. MU-TRON
18. LET'S QUIT SMOKING
ETC.
19. SMOKE
20. DIM YSMYGU
21. THE BOY WITH THE THORN IN HIS SIDE
CD 2 / CLARITY JUST CONFUSES ME (BONUS TRACKS)
B SIDES & SUCH

1. CRYNDOD YN DY LAIS
2. HIT AND RUN
3. FOXY MUSIC
4. PASS THE TIME
5. CALIMERO
6. B SIDE
7. CARRY THE CAN
8. WRAP IT UP
9. TRÔNS MR. URDD
10. nO.K.
11. PLAY IT COOL (U.K. ALBUM MIX)
DEMO SESSION, BIG NOISE STUDIOS, CARDIFF, DECEMBER 1996 (CD ONLY)
12. SFA THEME (DEMO)
13. THE INTERNATIONAL LANGUAGE OF SCREAMING (DEMO)
14. TORRA FY NGWALLT YN HIR (DEMO)
15. DOWN A DIFFERENT RIVER (DEMO)
16. SHE'S GOT SPIES (DEMO)
17. HIT AND RUN (DEMO)
18. MOUNTAIN PEOPLE (DEMO)
19. PLAY IT COOL (DEMO)
20. BASS TUNED TO D.E.A.D (DEMO)
21. NAFF GÂN (DEMO)
22. THE PLACID CASUAL (DEMO)
23. MUSIC BOX (DEMO)
Radiator (2017 remaster) – 2LP vinyl
Side 1
1. Furryvision (2017 Remastered Version)
2. The Placid Casual (2017 Remastered Version)
3. The International Language of Screaming (2017 – Remaster)
4. Demons (2017 Remastered Version)
Side 2
1. Short Painkiller (2017 Remastered Version)
2. She's Got Spies (2017 Remastered Version)
3. Play It Cool (2017 Remastered Version)
4. Hermann Loves Pauline (2017 Remastered Version)
Side 3
1. Chupacabras (2017 Remastered Version)
2. Torra Fy Ngwallt Yn Hir (2017 Remastered Version)
3. Bass Tuned to D.E.A.D. (2017 Remastered Version)
4. Down a Different River (2017 Remastered Version)
Side 4
1. Download (2017 Remastered Version)
2. Mountain People (2017 Remastered Version)