other titles...
See also...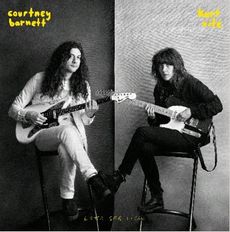 Over Everything
Let It Go
Fear Is Like A Forest
Outta The Woodwork
Continental Breakfast
On Script
Blue Cheese
Peepin' Tom
Untogether
COURTNEY BARNETT & KURT VILE
LOTTA SEA LICE
marathon artists
two of the most gifted songwriters of our generation join forces to deliver something utterly unpredictable and original – an instant-classic record that sounds as if the two have played together for decades, merging Americana with a harder, splashier diy sound.
The shared chemistry is immediately apparent in the breath-taking jam of opener and first single "Over Everything", with dovetailing vocal lines and intricate, shimmering guitar stylings from the pair. The lyrics play out as a rambling dialogue as they compare notes about song-writing and inspiration – it was the first song written for this project. This is a conversation between friends, documented in raw, unvarnished song form, brimming with personal history, crackling with energy and shot through with humour. "Let's hope this long-distance musical friendship continues far, far beyond this one record" 9/10 – line of best fit.