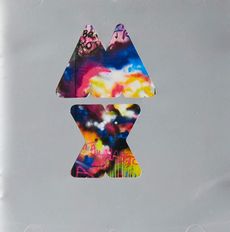 Mylo Xyloto
Hurts Like Heaven
Paradise
Charlie Brown
Us Against the World
M.M.I.X.
Every Teardrop Is a Waterfall
Major Minus
U.F.O.
Princess of China
Up in Flames
A Hopeful Transmission
Don't Let It Break Your Heart
Up With the Birds
Coldplay
Mylo Xyloto
parlophone
bigger choruses, grander textures & never-ending optimism characterise this colourful eno-helmed recording.
these brian eno augmented anthems that come breezing from the speakers. the lyrics are as life-affirming & plain-speaking as ever.
Special limited edition Pop-Up Album version includes:

- A 64 page 12" x 12" hardback book containing graffiti pop-up art designed by David A. Carter.
- Exclusive 180-gram heavyweight graffiti-vinyl version of the album.
- Selection of stickers and stencils.
- CD version of the album.
- 36" x 12" colour poster of the band's graffiti wall.
- Exclusive content including photographs, excerpts from the studio diary and the band's personal notebooks.