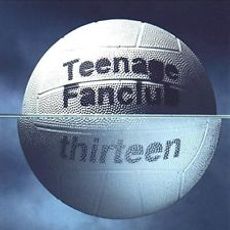 Hang On
The Cabbage
Radio
Norman 3
Song To The Cynic
120 Mins
Escher
Commercial Alternative
Fear Of Flying
Tears Are Cool
Ret Liv Dead
Get Funky
Gene Clark
Bonus 7"
Country Song –previously unreleased
Eyes Wide Open –from 'One In Four' compilation, first time on vinyl.
TEENAGE FANCLUB
thirteen (2018 reissue)
creation records
Having long been out of print, Teenage Fanclubwill re-release their classic Creation Records albums on vinyl.
Each album has been re-mastered for the first time from the original tapes at Abbey Road Studios, London under the guidance of the band, Norman Blake, Gerard Love, and Raymond McGinley. They will be packaged in faithful re-productions of the original vinyl artwork and available on heavyweight 180g single vinyl.The band have also selected rarities, favourites and tracks previously unavailable on vinyl to include on a 7" with each album. These 7" singles will each feature two tracks and will only be available with the initial pressing of each album.