MUSH
Gig Economy
DIPPED IN GOLD
---
an insanely energetic, catchy, lo-fi, jerky number from the Leeds Art-Rockers who combine a wry social commentary with spasmodic & idiosyncratic hooks & general guitar wonderment.
If you're into the likes of Bodega, Omni or Parquet Courts, you'll find this seriously addictive.

This is the first release from the brand new label, Dipped In Gold Recordings, which has risen from the ashes of the legendary Too Pure Singles Club, home to debut singles form the likes of Hookworms, Pulled Apart By Horses, DZ Deathrays, The Lovely Eggs, The Lucid Dream, Drahla, The Anchoress, Menace Beach, Tiger Cub, Cowtown and many more. After 10 years and 120 releases Too Pure Singles Club came to a natural end as a subscription based label in December 2017 and the label closed its doors. It was a sad day for many reasons none more so than there was now one less label championing underground UK music and generally bringing the mother flipping ruckus…Fear not - Dipped in Gold is here to fill that void & here begins what is guaranteed to be a momentous journey.......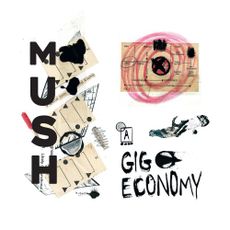 Tracklist
Gig Economy
Dopemine Loops