other titles...
See also...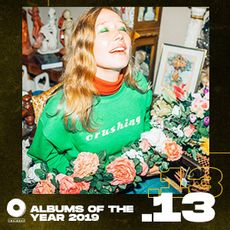 Body
Head Alone
Pressure To Party
Don't Know How To Keep Loving You
When The Family Flies In
Convention
Good Guy
You Were Right
Turn Me Down
Comfort
JULIA JACKLIN
Crushing
TRANSGRESSIVE
Jacklin's left the pool party and has created a standout classic in the saturated breakup album genre.
We were lucky enough to hear some of this record in its early stages and even then, it was immediately obvious that 2016's 'Don't Let The Kids Win' wasn't a one off fluke. It actually feels like this album follows on naturally from the closing track on that record in both style and pace, almost like she was paving the way for her sophomore back then.
"I don't want to be touched all the time, I raised my body up to be mine" – the refrain from 'Head Alone' sums up Jacklin's approach here – honest, open and unapologetic. A powerful and empowering reflection on claustrophobia, both literal and metaphorical, 'Crushing' is frequently painfully raw but still manages to be delicate and beautiful.
Produced by Burke Reid, and recorded in near total darkness in the depths of night, there is a closeness about the songs that bring goosebumps – every minute sound captured, from Jacklin's breathing to the ambient studio noise. This all makes 'Crushing' that little bit more, well, crushing.
"Grunge-rinsed, feminist-flipped, upcycled Fifties guitar an' all: Crushing is a triumph" - The Independent