other titles...
See also...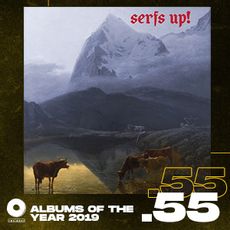 Feet
I Believe In Something Better
Vagina Dentata
Kim's Sunsets
Fringe Runner
Oh Sebastian
Tastes Good With The Money
Rock Fishes
When I Leave
Bobby's Boyfriend
fat white family
Serfs Up!
Domino Records
By far the least filthy Fat Whites album, what it pares back in dirt & menace, it more than makes up for in lush, lascivious, tropical warmth - imagine Arcade Fire in a trippy haze with Alan Vega heading down to the doom-psych-disco.
The dirt is still there of course, but scrape it away and you'll find a purring engine, gleaming chrome. Gregorian chants, jackboot glam beats, string flourishes, sophisticated & lush cocktail exotica, & electro funk punctuate the record at various junctures. Echoing within the arrangements throughout are traces of blissed-out 60s Tropicalia, Velvets/Bowie sleaze-making & star-gazing, 80s digital dancehall, David Axelrod-style easy listening, joyous Pet Shop Boys synth crescendos, acid house, post-PIL dub, metropolitan murder ballads & mouth-gurning, slow-mo psychedelia. Few but themselves could have forecast it: Fat White Family survived. Fat White Family got wise. Fat White Family got sophisticated.