other titles...
See also...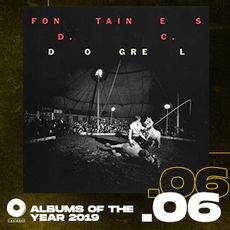 Big
Sha Sha Sha
Too Real
Television Screens
Hurricane Laughter
Roy's Tune
The Lotts
Chequeless Reckless
Liberty Belle
Boys In The Better Land
Dublin City Sky
FONTAINES D.C.
Dogrel
partisan
Juxtaposing punk aggression with poetic sensitivity, 'Three Imaginary Boys' is vividly reimagined for the 21st century's equally alienated times by these four very much extant Dubliners.
These boys know what's really going on. From the opening drum blasts of 'Big' you get a sense of the energy of this five piece – heavy drum blasts, followed by frantic bass, then a voice enters, marching to the same beat the drums set, laying down a mission statement. "My childhood was small. But I'm going to be big" might sound infantile in anyone else's mouth, but here Grian Chatten delivers these words as a defiant claim to a seedy and grim Dublin underbelly. 'Big' continues as a fevered, unrelenting and propulsive track that'll leave you breathless despite clocking in at under 2 minutes.

Whilst 'Dogrel' is overflowing with radiofriendly punk nuggets, it's got far more up its rolled up sleeves than first meets the ear. It's a multidimensional work that goes way beyond the initial pop punch. Take the upbeat 'Liberty Belle' that swells and grows around Chatten's ode to a man in a broken marriage with the drums again setting the pace and driving the track forward. Or 'Hurricane Laughter' that plays off a ferocious bass line against feedback out of the Girl Band songbook before an anxious guitar line rips it open in time for Chatten to open up about a relationship
breaking down.

From the caustic tracks that have made them a must see live band, to the winding 'Dublin City Sky' and its "Patrick Kavanagh with a roll up and an empty tin" feel, they evoke parallels to The Fall. Just as Mark E Smith used a wide literary canon, humour and a variety of musical styles to
get his point across, as do Fontaines D.C. They're referencing different poets and falling in and out of love with different cities, but this album captures the same wild and diverse energy that made those early Fall records so rousing.

We've watched this band, in the space of year, rise from playing to less than 100 people in a pub to selling out next year's show before they've even played the next one this year. Thankfully, they are one of those rare bands that are as compelling on record as they are live.

"it's all propelled by an energy exclusive to debut albums, the five-piece pulsing with post-punk fervour" 4/5 – mojo.