other titles...
See also...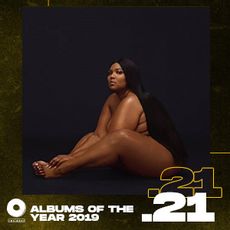 Cuz I Love You
Like A Girl
Juice
Soulmate
Jerome
Cry Baby
Tempo (ft. Missy Elliott)
Exactly How I Feel (ft. Gucci Mane)
Better In Color
Heaven Help Me
Lingerie
boys (bonus track)
truth hurts (bonus track)
water me (bonus track)
super deluxe bonus tracks
good as hell
good as hell (feat, Ariana grande')
lizzo
Cuz I Love You
ATLANTIC
a hot contender for the definitive summer party album of 2019, lizzo's infectious energy, invincible soul-pop vocals and titanic hooks are salaciously charming.
Channelling boundless self-confidence through a downright earth-quaking voice, colourful persona, and undeniable star power, Lizzo struts into the spotlight and steps up with a whole lot of sass, spirit, and soul. Embracing her vocal range like never before and celebrating herself to the fullest, she speaks her mind, censors nothing, and delivers an enviable level of honesty, pure passion, and fresh fire. This is a must for fans of nicki minaj, Janelle monae and chaka khan.