other titles...
See also...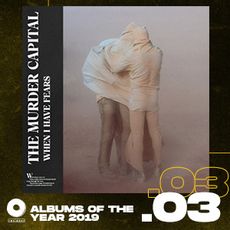 For Everything
More Is Less
Green & Blue
Slowdance I
Slowdance II
On Twisted Ground
Feeling Fades
Don't Cling To Life
How The Streets Adore Me Now
Love, Love, Love
The Murder Capital
When I Have Fears
Human Season Records
There's a surging fervour throughout this ferocious, brutal, tender and all consuming debut, taking us to heady summits and plummeting us into terrifying depths, frequently in the same song.
We'll probably never recover from the way this translated to their game-changing instore performance.

When an album announces itself with a song as galvanizing and stirring as 'For Everything', you know you're about to experience a band that operate on a level that most can only aspire to. You hope, you pray, that this isn't one of those records whose opening gambit is the
best the band will ever offer. You want so desperately for that song to be the introduction to your new favourite band. Moving into the driving
punk of 'More Is Less', you dare to believe that someone was possibly listening to those prayers. By the time you hit 'The Unforgettable
Fire''-era U2-esque pounding of 'Green and Blue', you're content to know that even if they only ever deliver 3 songs as good as this
opening trio, you're going to be forever grateful.

But then...the haunting, icy scorch of the two-part 'Slowdance' ominously edges out of the shadows and we're floored. Left totally dumbfounded with just a few sparse strums, abrasive riffs, rumbling bass notes and James's deeply affecting vocals on 'Slowdance I', all gradually layering and building into the unsettling tension of instrumental 'Slowdance II', to reach a devastating post-rock crescendo that burns out to leave a lone cello to mourn the end of the album's centrepiece.

Now we're ready (or at least as ready as we can ever be), for the disarming, bruised confessional of 'On Twisted Ground' - which, as anyone who has seen them live will know, prompts emotional meltdown on stage and in the audience. They know they can't leave us on the ground and broken for long, so we're hammered with the thumping 'Feeling Fades' (a track that sonically unites them with their fellow Irishmen, Fontaines D.C.). 'Don't Cling To Life' acts almost as a celebratory response to 'On Twisted Ground' before we become still again for 'How The Streets Adore Me Now''s reflection. The industrial, highly charged pulse of closer 'Love, Love, Love' (its debt to Ian Curtis undeniable but entirely forgivable), swells, grinds and then fades to a single note that provides the bookend to 'For Everything'.

"…let's dance and cry
So we remember why we die".

"creating the same nervous, edge-of-your-seat atmosphere as their live shows" - DIY, "an intensely vulnerable, tender record...ina league of their own" 9/10 - Loud & Quiet.