WARMDUSCHER
Tainted Lunch
the leaf label
---
Delivering the goods you never knew you needed, their melt in the mouth disco basslines served on a fragrant bed of feedback will satiate any appetite for filthy funk.
They thrum with weirdo energy, psychedelic fervor and bonkers, filthy rock 'n' roll. They're here for a good time (along with their pals Iggy Pop and Kool Keith) and you're damn well gonna join them. Warmdusher fans should check out automatic, prettiest eyes and madonnatron, if they haven't already! "exhilarating and irreverent third from London combo […] the quintet concoct a mutant strain of noisy funk, hip-hop, subversive art punk and dirty disco" 9/10 – uncut.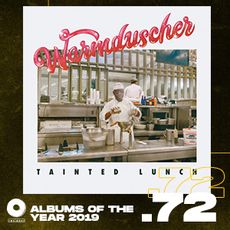 Rules Of The Game (feat. Iggy Pop)
Tainted Lunch
Midnight Dipper
Disco Peanuts
Fill It, Don't Spill It
Burner (feat. Kool Keith)
The Chimp
Precious Things
Grape Face
Dream Lotion
Blood Load
Tiny Letters
dinked edition exclusive 7"
Nelson's Threads
The Pressure