angel olsen
All Mirrors
jagjaguwar
---
On her most decadent album yet, Angel spoils us with thick walls of synths and strings to accompany her primal croons into the abyss.
It'll hold a firm grip on your heart after just one listen.
Never one to sit still creatively, Olsen has been growing bolder with each new album. Shifting direction once more, this - her fourth studio record – eschews the grunge-pop folk of 2016's 'My Woman' in favour of luxurious 12-piece string arrangements that ebb and swell amongst simmering electronics. That's not to say that she's lost any of the gutsiness that defined that record. Her vocals run the gamut of dynamics, ranging from howling, nerve-shredding melodies through to hushed reprieves that suggest a resigned acceptance.
One of the biggest appeals of Olsen's earlier albums is the dissonance between the grand scale and all-consuming nature of the emotions that she conveyed against the stripped back sparsity of her sound. It gave the impression of reading someone's diary – the pages can contain stunning, poetic brilliance, but the act feels almost invasive - a peek into a world full of intrigue and drama with your imagination filling in the space between the lines.
There is still space between the lines on 'All Mirrors' and Olsen's not made her wording any more accessible but she has finally found a musical accompaniment to illustrate her emotions. The immensity of the strings and the loud peaks contrasting with quiet troughs aren't a cheap way to tug at heart strings - they're vital to match the intensity of her lyricism.
The orchestral backing (by Ben Babbitt and Jherek Bischoff with production by John Congleton) is grand and complex and on her biggest moments, she sounds like she's channeling the spirit of John Barry as she enters the realm of Bond theme drama. Incorporating elements from Scott Walker's early solo work, she finds ways to elevate her voice. The execution, with the underpinning drone giving way to violins and timpani, feels tailor made for Olsen's sound. There are very few artists with a voice that can not only withstand an orchestral backing, but sound in control, leading without being led.
This feels like the album Olsen was born to make. The ambition, execution and vision all driving each other to reach a peak performance. We're utterly transfixed.

"Olsen is a natural at writing mantras for jaded souls" - Pitchfork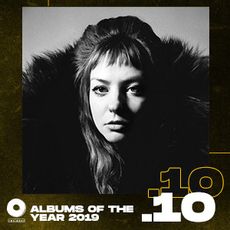 Tracklist
Lark
All Mirrors
Too Easy
New Love Cassette
Spring
What It Is
Impasse
Tonight
Summer
Endgame
Chance

extras pictured only available while stocks last