Super Furry Animals
Guerrilla (20th anniversary re-issue)
BMG
---
completely re-mastered from the original master tapes, sfu's glorious third album returns to print like an absolute champ.
***the CD edition features over 25 bonus tracks including a second disc of previously unreleased material.*** this version features a foreword by Alan McGee, sleevenotes by Ric Rawlins, and previously unseen concept art drawings by Pete Fowler. "a kaleidoscopic maximalist pop record full of samplers, electronics, sub-bass and steel drums […] one of the bravest, weirdest and most joyful records of the 90's" 9/10 – uncut.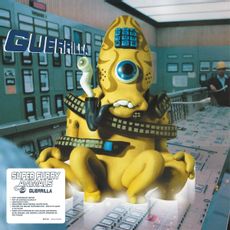 Tracklist
CD DISC 1
Check It Out
Do Or Die
The Turning Tide
Northern Lites
Nightvision
Wherever I Lay My Phone (That's My Home)
A Specific Ocean
Some Things Come From Nothing
The Door To This House Remains Open
Rabid Dog (cd bonus)
The Matter Of Time (cd bonus)
Mrs. Spector (cd bonus)
Missunderstanding (sic) (cd bonus)
Colorblind (cd bonus)
This, That And The Other (cd bonus)
CD Disc 2
Big Noise Demos January 1998 The Turning Tide
Hand In Hand
Colorblind
Vermillionaire
The Teacher
Keep The Cosmic Trigger Happy
Ewloe Demos March 1998
The Turning Tide
Northern Lites
Fire In My Heart
Colorblind
Rabid Dog
Do Or Die
The Matter Of Time
Wherever I Lay My Phone (That's My Home)
"The Making of Guerrilla"
Check It Out (Rough Mix)
Y Teimlad (Rough Mix)
John Spex (Unfinished, Rough Mix)
Cowboy (Unfinished, Rough Mix)
Cian & Bunf (Final Mix)
DX Heaven (Final Mix)