various artists
Peaky Blinders OST Series 1-5
umc
---
As dark, invigorating and ferocious as the series – any fan of Birmingham's most famous razor gang will know how much the perfectly timed music cues add to the BBC's most exciting drama.
This set brings together an unlikely cast that've soundtracked the world of Shelby & co - The White Stripes, Laura Marling, Arctic Monkeys, Royal Blood, Radiohead, The Last Shadow Puppets, Queens of the Stone Age, David Bowie, Foals, Black Sabbath, Idles, Joy Division and Ricard Hawley who has covered Bob Dylan's "Ballad Of A Thin Man", alongside selected vocal snippets for context.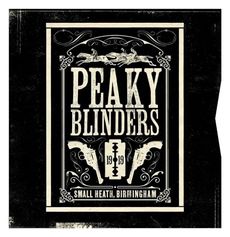 3LP
*Tommy: 'It's Not A Good Idea…'
Nick Cave And The Bad Seeds - Red Right Hand
The White Stripes - St James Infirmary Blues
Truce - From 'Peaky Blinders' Original Soundtrack / Series 1 (Score)
*Tommy: 'Right I Have Bought You Hear Today…'
Dan Auerbach - The Prowl
*Polly: 'There's Only One Thing…'
Jack White - Love Is Blindness
PJ Harvey - To Bring You My Love
Alfie: 'I've Heard Very Bad, Bad, Bad Things…'
Black Rebel Motorcycle - River Styx
Post Irish Meeting - From 'Peaky Blinders' Original Soundtrack / Series 2 (Score)
PJ Harvey - Red Right Hand
Laura Marling - What He Wrote
Arthur: 'Do You Wanna Tell 'Em…'
Royal Blood - Come On Over
Arctic Monkeys - Do I Wanna Know?
LP2
Tommy: 'I Love You…'
Nick Cave And The Bad Seeds - Breathless
Radiohead - You And Whose Army?
Polly: 'A Woman Of Substance…'
PJ Harvey - This Is Love
Sons - From 'Peaky Blinders' Original Soundtrack / Series 3 (Score)
Tommy: 'You Can Change What You Do…'
Queens Of The Stone Age - Burn The Witch
The Last Shadow Puppets - Bad Habits
David Bowie - Lazarus
Tommy: 'Sex, Freedom, Whiskey Sours…'
Savages - Adore
Nick Cave And The Bad Seeds - The Mercy Seat (Live From KCRW)
Rachel Unthank & The Winterset - I Wish
Ballad Of Polly Gray - From 'Peaky Blinders' Original Soundtrack / Series 4 (Score)
Tommy: 'I'm Not A Traitor To My Class…'
Frank Carter And The Rattlesnakes - Devil Inside Me
LP3
Foals - Snake Oil
Polly: 'It's In Our Gypsy Blood…'
Radiohead - Pyramid Song
Laura Marling - A Hard Rain's A-Gonna Fall
Ada: 'So, Tommy Shelby, MP…'
Black Sabbath - The Wizard
Anna Calvi - Papi Pacify
Joy Division - Atmosphere
Tommy: 'You Need To Understand…'
You're Not God - From 'Peaky Blinders' Original Soundtrack / Series 5 (Score)
Arthur: 'There's A Bentley Outside…'
Jehnny Beth - I'm The Man
Idles - Never Fight A Man With A Perm
Tommy: 'I Will Continue…'
Richard Hawley - Ballad Of A Thin Man
CD1
*Tommy: 'It's Not A Good Idea…'
Nick Cave And The Bad Seeds - Red Right Hand
The White Stripes - St James Infirmary Blues
Truce - From 'Peaky Blinders' Original Soundtrack / Series 1 (Score)
*Tommy: 'Right I Have Bought You Hear Today…'
Dan Auerbach - The Prowl
*Polly: 'There's Only One Thing…'
Jack White - Love Is Blindness
PJ Harvey - To Bring You My Love
Alfie: 'I've Heard Very Bad, Bad, Bad Things…'
Black Rebel Motorcycle - River Styx
Post Irish Meeting - From 'Peaky Blinders' Original Soundtrack / Series 2 (Score)
PJ Harvey - Red Right Hand
Laura Marling - What He Wrote
Arthur: 'Do You Wanna Tell 'Em…'
Royal Blood - Come On Over
Arctic Monkeys - Do I Wanna Know?
Tommy: 'I Love You…'
Nick Cave And The Bad Seeds - Breathless
Radiohead - You And Whose Army?
Polly: 'A Woman Of Substance…'
PJ Harvey - This Is Love
Sons - From 'Peaky Blinders' Original Soundtrack / Series 3 (Score)
Tommy: 'You Can Change What You Do…'
Queens Of The Stone Age - Burn The Witch
The Last Shadow Puppets - Bad Habits
David Bowie - Lazarus
CD2
Tommy: 'Sex, Freedom, Whiskey Sours…'
Savages - Adore
Nick Cave And The Bad Seeds - The Mercy Seat (Live From KCRW)
Rachel Unthank & The Winterset - I Wish
Ballad Of Polly Gray - From 'Peaky Blinders' Original Soundtrack / Series 4 (Score)
Tommy: 'I'm Not A Traitor To My Class…'
Frank Carter And The Rattlesnakes - Devil Inside Me
Foals - Snake Oil
Polly: 'It's In Our Gypsy Blood…'
Radiohead - Pyramid Song
Laura Marling - A Hard Rain's A-Gonna Fall
Ada: 'So, Tommy Shelby, MP…'
Black Sabbath - The Wizard
Anna Calvi - Papi Pacify
Joy Division - Atmosphere
Tommy: 'You Need To Understand…'
You're Not God - From 'Peaky Blinders' Original Soundtrack / Series 5 (Score)
Arthur: 'There's A Bentley Outside…'
Jehnny Beth - I'm The Man
Idles - Never Fight A Man With A Perm
Tommy: 'I Will Continue…'
Richard Hawley - Ballad Of A Thin Man