other titles...
See also...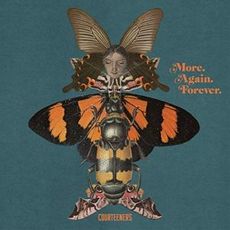 Heart Attack
Heavy Jacket
More. Again. Forever.
Better Man
Hanging Off Your Cloud
Previous Parties
The Joy Of Missing Out
One Day At A Time
Take It On The Chin
Is Heaven Even Worth It?
COURTEENERS
More. Again. Forever.
Ignition Records Ltd.
wow! This is an absolute thrill-fest from start to finish from the brit-pop titans and we absolutely want more, again, forever.
The band's most confident and consistent record to date. 'More. Again. Forever.' features ten new tracks that are guaranteed to cement their place as one of the country's biggest and best-loved bands. 'Heavy Jacket' is the first single taken from the album – a gigantic piano and siren led call to arms. If you love the Gallagher brothers, Kasabian or reverend and the makers and have somehow missed these guys, this is the perfect opportunity to join the party!