BUILT TO SPILL
Built To Spill Plays The Songsof Daniel Johnston
Ernest Jenning Record Co.
---
having played alongside the late legend of outsider music, it seems fitting that doug martsch and co should release this tribute album.
In 2017, Built To Spill was invited to play a few shows as Daniel Johnston's back up band. This is what those rehearsals sounded like. 11 tracks of Johnston's fractured pop presented through the eyes of Built To Spill. The band recorded these songs in August 2018 as a trio with Dough Martsch, Jason Albertini and Steve Gere. Daniel Johnston sadly passed away in September of 2019 while this album was in the final stages of production.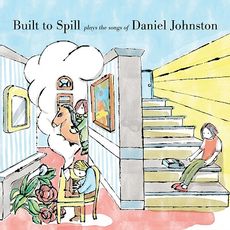 Tracklist
Bloody Rainbow
Tell Me Now
Honey I Sure Miss You
Good Morning You
Heart, Mind and Soul
Life In Vain
Mountain Top
Queenie The Dog
Impossible Love
Fake Records of Rock & Roll
Fish