other titles...
See also...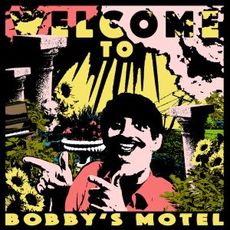 Welcome to Bobby's Motel
Hot Heater
Under the Wires
Bobby's Forecast
Down In The Dumps
Reflection
Texas Drums Pt I & II
NY Inn
What's In Fashion?
Take Your Time
Hot Like Jungle
Pottery
Welcome To Bobby's Motel
Partisan Records
An absolute romp of manic post-punk funk & rousing vocal camaradarie; their debut is all about noisy fun &, by this yard stick alone, it's passed with flying colours.

Fusing frenetic energy with painstaking precision, the record is part post-punk, part art-pop, & part dance floor acid trip, hinting at everything from Devo, to parquet courts, to Gang of Four as it boldly careens through genres & decades. The music is driven by explosive drums & off-kilter guitar riffs that drill themselves into your brain, accented with deep, funky grooves & rousing gang vocals. The production is similarly raw & wild, suggesting an air of anarchy that belies the music's careful architecture & meticulous construction. The result is an album full of ambitious, complex performances that exude joy & mayhem in equal measure, a collection that's alternately virtuosic, chaotic, & pure fun.