other titles...
See also...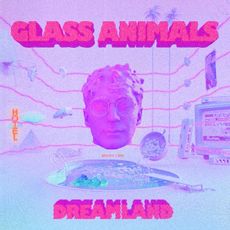 Dreamland
Tangerine
((home movie: 1994))
Hot Sugar
((home movie: BTX))
Space Ghost Coast to Coast
Tokyo Drifting
Melon and the Coconut
Your Love (Déjà vu)
Waterfalls Coming Out Your Mouth
It's All So Incredibly Loud
((home movie: rockets))
Domestic Bliss
Heat Waves
((home movie: shoes on))
Helium
glass animals
Dreamland
polydor
uber chilled art-pop surrealism that delivers euphoric party vibes and infectious hooks in the most abstract way imaginable.
At the heart of 'Dreamland' lies the quietly enigmatic Dave Bayley, the bands frontman and producer extraordinaire whose work extends far beyond that of Glass Animals, with credits including Joey Bada$$, Flume, Wale, Khalid and most recently Denzel Curry on the late 2019 single 'Tokyo Drifting'. For Bayley, 'Dreamland' is a nostalgic memoir of his life so far, covering expansive and difficult ground and holding nothing back. A must for fans of metronomy, hot chip and alt-j. "the sounds are heavily influenced by 2000s R&B and hip hop, which could sound inauthentic from a group that look like Nathan Barley extras. But the production is so playful and the lyrics so surreal, it's easy to be charmed" 4/5 – the arts desk.