Saint Etienne
Words And Music by Saint Etienne (2020 deluxe 2cd edition)
heavenly recordings
---
The original sleeve notes by Travis Elborough are included alongside new notes by Adey Lobb of The Big Issue.
The booklet also contains previously unseen photographs by Karen Robinson and Paul Kelly plus a blow by blow account of each song penned by the three members of Saint Etienne. • Disc one is the original 13 track album whilst Disc Two contains all 10 tracks from the long deleted US only 'More Words And Music' release plus 3 songs appearing on CD for the first time. 'Pocket Call' and two previously unreleased recordings 'Starlings' and 'When I Was Seventeen (single mix)'. We think you'll be pleased. • More notes on this underrated gem from the Saint Etienne cannon: • 'Words and Music by Saint Etienne' was the bands eighth studio album released on 18 May 2012 by Heavenly Recordings. The record features collaborations from longtime Saint Etienne associate Ian Catt, as well as Richard X and former Xenomania members Tim Powell and Nick Coler. The title was provided by Lawrence of the bands Felt, Denim and Go-Kart Mozart. • According to Bob Stanley the record deals with "how music affects your life. How it defines the way you see the world as a child, how it can get you through bad times in unexpected ways, and how songs you've known all your life can suddenly develop a new attachment, and hurt every time you hear them. More than how it affects and reflects your life though, the album is about believing in music, living your life by its rules."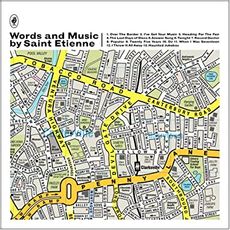 Tracklist
Over The Border
I've Got Your Music
Heading For The Fair
Last Days Of Disco
Tonight
Answer Song
Record Doctor
Popular
Twenty Five Years
DJ
When I Was Seventeen
I Threw It All Away
Haunted Jukebox
Solid Gold
Your Valentine
Jan Leeming
Racing Car
Landscape
Manhattan
You're Not Alone
Just Friends
Fairground Rock And Roll
Lullaby
Pocket Call
Starlings
????????