record store day 2021
event info: drop 1, 12.06.21
instore 8am-3pm, online from 6pm
---
rsd 2021 is social distancing - here's how we're running the first drop date (June 21st 2021).

Read on to find FAQs, product splits & more!


The first drop of 2021 will work in store in the same way as last year's drops!

FREQUENTLY ASKED QUESTIONS (WITH ANSWERS!)

What time shall I turn up?
We honestly wish we could tell you this but you really are just going to have to follow your gut. Hopefully it's an instinct that serves you well?! We can tell you roughly how many we are getting of something (we do always order a lot of stock!) but we can't tell you how many of the people ahead of you in the queue will be wanting the same thing. RSD is a bit of a game for everyone. We have no idea how many to order. You have no idea when to turn up to get what we have ordered. We really are in this together!
Can I preorder any of the releases?
Same rules as always on this front. First come, first served. No preorders. No stashes. No mates' favours. No bribery. No back scratching of any sort.
If I can't see a title on the list, will you be stocking it?
No. But by all means ask us about it in case it's something we can order in for you. Do note that the U.K. & States lists vary a lot & many of the U.S. titles don't make it over here (& vice versa).
If I order online, can I collect straight away?
Hold yer horses!! Afraid not. We work fast & we are efficient BUT we are not miracle workers. Orders need to be received, processed, picked & notified before you mosey on down to the shop to collect them. So, sit tight. Await confirmation that your order is ready to collect & as soon as it is, you're more than welcome to come & grab it. Remember though, this is usually our busiest time of year, by far. Orders will take a while to sort regardless of how much coffee we guzzle.
How many of ____ are you gonna get in and when will this sell out?
We can usually answer the first one (although often don't actually know until the stock arrives, sometimes the day before!). The second one requires the same crystal ball that will tell you what time to arrive. We wish we knew this stuff but if we had that kind of foresight & vision, we probably wouldn't be selling records for a living.
Can I have more than one? It's for my friend?
Afraid not. You can only buy 1 copy of any release but we do not limit the number of titles you buy. As many titles as you like but only 1 copy of each. "I'll pick you one up too while I'm there" isn't something you can say to your friends for RSD unfortunately. It's lovely that you are generous enough to offer to do the travelling, queuing & the carrying for your friend but as so many people's friends seem to have active EBay accounts around this event, RSD rules continue to limit all titles to 1 per person.
Can I combine multiple online orders?
RSD is our busiest time on the website. Ever. As organised & accommodating as we are, if you ask us to combine orders, you will break us. We're not being difficult. It's just not as easy as it might sound.
How do I know my order has gone through?
If you have received an order number, your order has gone through. Sometimes, when the website is especially busy, things can go a bit wonky & order confirmations take a while to come through. If you haven't received any sort of notification from us within 48hours, please contact us by email: [email protected]
If it's in my shopping basket is it mine?
Nope. You can't bagsy stuff. It's not yours til you check out. We would advise that you decide on your priority titles, check those out first & then come back for a more casual browse afterwards, once you know the really important stuff is safe & yours.
Where's my order?
Once we have received your order, the status will be marked as "Processing". Once your order has been picked & packed & is ready to leave the building, you'll get notification that your order has "Shipped". Then, you'll need to sit & wait patiently for the Royal Mail to work their magic. Some parts of the UK are much slower than others with their deliveries & some countries are much slower than others. U.K delivery should take between 2 to 5 working days to arrive, Europe & Rest Of World should take just over a week, depending on where you are. If, after 2 weeks from the "shipped" date, you genuinely believe your order has gone missing for good (& you've checked with your neighbours, at the post office, behind the wheelie bins), by all means drop us an email at [email protected] but please give it some time. Virtually all orders turn up in the end.
Do you post internationally?
Yes. We post to pretty much everywhere. Just be aware that postal times vary hugely depending on where you live.

Do I get tracking info?
A Royal Mail delivery confirmation number can be provided for all mainland U.K. orders once the order has been posted. Please contact [email protected] to request your tracking number.

For overseas orders, if you require tracking information, you will have to select the "signed for" postage option at checkout. Tracking information cannot be provided on the standard service. ***We highly recommend the signed for option for our international customers, especially as many of these titles won't be replaceable if they go missing***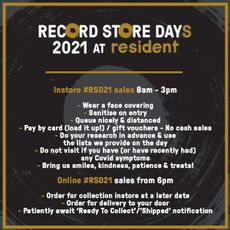 Tracklist
find all the individual product pages for...

drop 1 : 12/06/21 here
drop 2 : 17/07/21 here

please bear in mind that if you are ordering from us online, this will be our busiest time of the year.

responses to emails & queries will be slower than usual. With the best will in the world, we cannot expand time. the residents will be working flat out & we will do everything we can to accomodate you but you can help us to keep things running smoothly in a few simple ways:
- check your email & shipping addresses are 100% accurate
- only order titles you know you definitely want to avoid us dealing with unecessary cancellations after panic buying
- check that no-one else is kindly buying the same thing for you as a gift
- try to avoid placing orders after a long afternoon in the pub