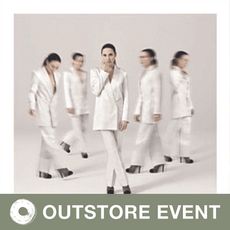 Who I Am
Blame it on Me
Good Enough
Escape Overload
Fearless feat
Here I Am
Nowhere to Run
In and Out of Love
End of Everything

Deluxe 2CD :
Self Love (previously unreleased)
Into You (previously unreleased)
Touch Me (Cover of a Rui Da Silva track)
Who I Am (Joe Goddard Remix)
Blame It On Me (PBH & Jack Remix)
High Heels (Moto Blanco Remix)
*** please read all terms & conditions before placing your order. questions can be emailed to [email protected] ***
A vital voice in the modern discourse on depression, body positivity & the LGBTQ community, Melanie C's trailblazing influence has arguably never been more apparent & as a result, some of the key writers of the moment have teamed up to work with her.

Alongside Rae Morris & Fryars, who co-penned the first single 'WHO I AM', co-writers include Jonny Lattimer (Ellie Goulding, James Bay, Rag 'n' Bone Man), Future Cut (Little Mix, Shakira, Lily Allen), Tom Neville (Dua Lipa, Kesha, Calvin Harris) & shop fave Shura & also features Nadia Rose on the smooth & soulful 'Fearless'.

---
*** THE GLOWING ALBUM REVIEWS ***

"Thrumming build-ups, explosive choruses, thunderous drops: against this immersive backdrop, Melanie's performance is fresh and authoritative" – Metro

"The former Spice Girl lands some serious punches on a mature, embracing album with nods to neo-disco and deep house" – the guardian

"jammed with glitterball grooves that nod cheekily to a crateful of retro dance floor classics" – the independent

"an invigorating, uplifting record that not only serves as its creator's best work in decades, but as a source of much-needed strength and positivity" – nme

"fresh and energetic, using contemporary electronic styles without sounding like she's trying too hard" – Evening Standard
Melanie C
Melanie C ("outstore" album bundle)
RED GIRL MEDIA
**event update - rescheduled date announce!!*

we have finally managed to confirm a new date for this show but due toi having to work around other events & a busy schedule, this isn;t going to take place until 2022 now!
*existing tickets will be automatically transferred over*
---
resident & one inch badge present...

melanie c
"live outstore at chalk, brighton"

saturday 29th may 2021
sunday 20th february 2022

14+
early evening show. time tbc.

***tickets will not be posted - please select the pick up in shop option (but no need to collect anything from the shop as you will receive an e-ticket from seetickets a few days in advance of the show - our website just doesn't have an option that reflects this!) ***.

as with all events at the moment, we are making bookings full of hope & optimism that they will take place, whilst also being prepared for the fact that they may need to be rescheduled. if this turns out to be the case, we will always guarantee that your purchase will still be valid for the new date.
---
terms and conditions

* please read the following before placing your order
1. this event will not have printed tickets. when you purchase a ticket, you will be agreeing to us passing on your details to the venue in order for them to send you an e-ticket a few days before the event. this will be a one-off occurrence and your details will not be retained. if you do not want this to take place, please contact us as soon as you place your order on [email protected]
- e-tickets are 1 per person - duplicate orders will be refunded.

2. you will receive an automated confirmation that your order has gone through, followed by another confirmation within 24 hours once we've added you to the guestlist (please double check your email address is correct when placing your order and check your spam folder before contacting us if you don't receive this confirmation).

3. tickets are not physical and the venue will issuing e-tickets. if you plan on ordering a ticket only option, please select 'pick up in shop' as your checkout option.

4. please read any subsequent communication you receive from us in case we need to notify you of any changes to the advertised show.

5. we cannot change any names on the guestlist after 16th february 2022.
6. we cannot process any exchanges or refunds for your album after the event.

7. all physical copies of the album need to be collected from resident (27-28 kensington gardens, brighton) by 20th february 2022 as we do not have room to store stock long term. any items uncollected by this date will be disposed of (in a kind & ethical manner!) – or more likely donated to a good cause.

8. please arrive in plenty of time to get into the venue (there may be queues), buy a drink, put your coat in the cloakroom etc. melanie c will aim to be on stage promptly.
9. as this is a 14+ event, please bring id if you think you might need it to get served at the bar.

for disability access requests, please contact [email protected]