other titles...
See also...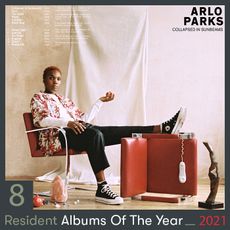 Collapsed In Sunbeams
Hurt
Too Good
Hope
Caroline
Black Dog
Green Eyes
Just Go
For Violet
Eugene
Bluish
Portra 400
Arlo Parks
Collapsed In Sunbeams
TRANSGRESSIVE
Eureka!! We've found an album that unites the multitude of Resident tastes – from the pop purists to the soul diehards to the metal heads with an ear for melody - Parks' deserved Mercury Prize winning debut is a sublime album of vignettes and intimate portraits.
At its heart, 'Collapsed In Sunbeams' is a set of musings on life and its complexities, celebrated via the romantic pop artform. The half Nigerian, quarter Chadian, quarter French Londoner once said she wants her music to be "both universal and hyper-specific" and she affectionately drives that nail's head deeper with every diaristic line. Her craft blooms from emphasising telling details, emotional magnitude captured in meticulous observations. The spoken word opening intro to the album lays the way for 'Collapsed In Sunbeams' being lyrically deft but whilst the words are undoubtedly central to her art, the songs remain traditionally structured – a pristine suite of poetically coloured, verse-chorus-verse-chorus melodic soul. It may be uniquely British in sound and naturally rooted in modern day West London but 'Collapsed in Sunbeams' refuses the trappings of any specific style, era or location. Instead, her timeless tunes harvest from the pop-soul crossover of Stax, the measured leisureliness of trip-hop (Portishead, Massive Attack), 90's R'n'B trailblazers (Erykah Badu, Lauryn Hill) and the contemporary fearless soul mutations of the much lauded Sault and Cleo Sol.

These unhurried, perfectly produced, multi-layered, breezy songs sound like they've poured effortlessly, fully formed, from Parks' mind and onto record. Everything is natural and fluent, which makes her debut's impact that much more profound and enduring. Keep this record close.

You're not alone, you're not alone You're not alone like you think you are.

jack: Been in love with this album since it dropped and it has very rarely left my rotation throughout the year. Arlo blends a soulful indie sound with super catchy hooks and wonderfully crafted, relatable lyrics. Anyone else lucky enough to hear the entire crowd sing the chorus of 'Caroline' at her show at Chalk in September will understand why this album continually gives goosebumps.