KIWI JR
Cooler Returns
Sub Pop Records
---
Effervescent jangle-punk from the Canadian quartet (featuring Alvvays' Brian Murphy on guitar) who exude a gloriously scrappy energy.
Smart, exuberant & catchy all at once – it's a contemporary fix for those who constantly hanker after the sounds of New Zealand's Flying Nun label.
These Canadians draw the line between the dunedin sound and the modern lovers in a way that makes you wonder quite why no one else has been tapping this rich mine of jangly, guitar rich sound before. Touches of parquet courts' wide-pupiled neurotic storytelling with moments of pure the clean crisp lo-fi make this endearing and enlightening at the same time – they've refined and invented a new type of slacker rock that somehow has found its way to its spiritual home of subpop.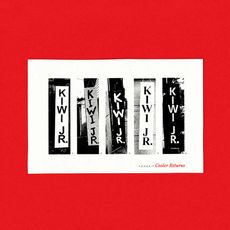 Tyler
Undecided Voters
Maid Marian's Toast
Highlights of 100
Only Here for a Haircut
Cooler Returns
Guilty Party
Omaha
Domino
Nashville Wedding
Dodger
Norma Jean's Jacket
Waiting in Line
DINKED EDITION 80
-Yellow LP*
-Signed 12x12 double-sided print*
-numbered art Obi Strip*
-DINKED STICKER*

LIMITED TO 500 ONLY
*DINKED EXCLUSIVE