GOLDIE
Timeless (25 Year Anniversary Edition)
London Records
---
A complex debut album, Timeless founded a new chapter in the history of the electronic genre originally reaching no.
7 in the charts and since been celebrated for its unique blend of sublime strings, beautiful atmospheres and sophisticated vocals. Inarguably an ambitious blueprint at the time; Goldie's production in 1995 fashioned the edgy rhythms and bass of jungle into a newly futuristic model, now globally admired as drum & bass. The 25 year editions feature rarities and remixes unearthed from Goldie's personal archive. Remastered with Goldie overseeing the process himself.


Jamie says "Kemistry' has and always will be one of the greatest tunes ever made in the Jungle/Drum & Bass genre. A spine tingling ode. What a record!"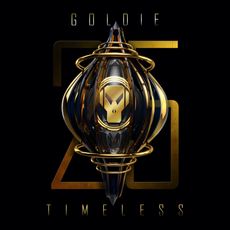 VINYL
Vinyl 1
A Side:
1-1a Inner City Life
1-1b Pressure
1-1c Jah
B Side:
B1 Saint Angel
B2 State Of Mind
B3 This Is A Bad
Vinyl 2
C Side:
C1 Sea Of Tears
C2 Jah The Seventh Seal
D Side:
D1 A Sense Of Rage (Sensual V.I.P. Mix)
D2 Still Life
D3 Angel

Vinyl 3
E Side:
E1 Adrift
E2 Kemistry
E3 You & Me
F Side:
F1 Sensual
F2 Kemistry
CD
CD1
1-1a Inner City Life
1-1b Pressure
1-1c Jah
1-2 Saint Angel
1-3 State Of Mind
1-4 This Is A Bad
1-5 Sea Of Tears
1-6 Jah The Seventh Seal
CD2
2-1 A Sense Of Rage (Sensual V.I.P. Mix)
2-2 Still Life
2-3 Angel
2-4 Adrift
2-5 Kemistry
2-6 You & Me
CD3
3-1 Timeless [Instrumental]
3-2 Kemistry (VIP Mix)
3-3 Angel (Grooverider Re-edit)
3-4 State Of Mind (VIP Mix)
3-5 Still Life (VIP Mix) [The Latino Dego In Me]
3-6 Saint Darkie
3-7 Inner City Life [4 Hero's Part 2 'Leave the planet mix')
3-8 [re:jazz] - Inner City Life
3-9 Sensual