indigo sparke
echo
sacred bones
---
Indigo Sparke brings her deeply personal lived experiences to her music, highlighting the spaces between the polarity of softness and grit.
Pulling from her experiences of addiction, of healing, of queerness, of heartbreak, of joy, of connection, of the softness and of the grit alchemising it all into tenderness through her music, she conjures up a myriad of feelings that is undeniably potent. echo was co-produced by Sparke, Big Thief's Adrianne Lenker and Andrew Sarlo. "I had the privilege and pleasure of getting to help Indigo put these recordings together back in April and throughout 2019. These songs became near and dear to me, and it was beautiful to help build the billowy landscapes within them. Indigo's writing and voice are ethereal and angelic and guide me through internal canyons and plains. I'm deeply grateful to have been part of this and to have gotten to play and sing along side Indigo, and to have been able to eternalize a very special space and time with her, which I will always cherish." -Adrianne Lenker "With these songs and her filament voice, Indigo brings us in to a private place and lights a fire there." -Feist "Indigo Sparke balance[s] heavy, reverb-drenched verses with moments of airy and acoustic whispers. This Australian artist tackles themes of vulnerability and femininity with an eye on life through a different lens." -NPR, All Songs Considered "Achingly beautiful and heart-wrenching... Feels impossibly intimate and vast at once, like a cherished secret that, once shared, becomes universal truth." -Gorilla vs Bear "Gorgeous and gentle... Sparke sings in an ethereal voice of the kind of love that makes you feel safe." -Consequence of Sound "If you like the hushed, delicate folk of Adrianne [Lenker]'s own material, you're probably going to like this song too. Indigo is a natural, and this song hooks you in with little more than her voice and guitar." -Brooklyn Vegan "Sadly beautiful, haunting... Deceptively complex on an emotional level." -Beats Per Minute "A glowing guitar lullaby." -Stereogum
Jack says:
"I have definitely been sleeping on Indigo Sparke. This is the perfect soundtrack to a 4am cry!"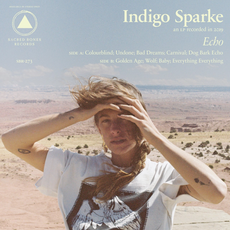 Tracklist
Colourblind
Undone
Bad Dreams
Carnival
Dog Bark Echo
Golden Age
Wolf
Baby
Everything Everything