celeste
Not Your Muse ("cafe reality tour" outstore)
polydor
---
*** UPDATE JULY 2022 ***
We have had confirmation from the label & Celeste's management team that they are still totally committed to honouring these shows.
It's definitely going to happen & they understand the importance of it, but they do also have other tour dates & events to reschedule.
Celeste's management have had to carefully manage her workload in order to look after her throat problems, which is obviously the priority here. We wish her a speedy & complete recovery. As soon as she is well & able to play the show, it will be rescheduled. Until then, hang on to your tickets & await more info from us. Thanks for your patience.

resident & one inch badge present

celeste
live "outstore" at chalk brighton
Part of the "Café reality tour"
monday 6th september 2021
postponed
new date = Monday 18th April 2022
postponed again. sorry.
A statement from Celeste's management:
"Unfortunately due to illness Celeste has had to postpone a number of live dates over the next few days, these shows will be rescheduled asap"

a new date will be confirmed asap. in the meantime, please hang on to your tickets. thank you.

---
evening event - times tbc
14+
***tickets will not be posted - please select the pick up in shop option (but no need to collect anything from the shop as you will receive an e-ticket from seetickets a few days in advance of the show (our website just doesn't have an option that reflects this!) ***
---
as with all events at the moment, we are making bookings full of hope & optimism that they will take place, whilst also being prepared for the fact that they may need to be rescheduled. if this turns out to be the case, we will always guarantee that your purchase will still be valid for the new date.
---
terms and conditions

* please read the following before placing your order

1. this event will not have printed tickets. when you purchase a ticket, you will be agreeing to us passing on your details to the venue in order for them to send you an e-ticket a few days before the event. this will be a one-off occurrence and your details will not be retained. if you do not want this to take place, please contact us as soon as you place your order on [email protected] e-tickets are 1 per person - dupe orders will be refunded.

2. you will receive an automated confirmation that your order has gone through, followed by another confirmation within 24 hours once we've added you to the guestlist (please double check your email address is correct when placing your order and check your spam folder before contacting us if you don't receive this confirmation).

3. you will be able to collect the album from the shop from friday 29th january 2021 after 9am.
- tickets are not physical and the venue will issuing e-tickets. if you plan on ordering a ticket only option, please select 'pick up in shop' as your checkout option.

4. please read any subsequent communication you receive from us in case we need to notify you of any changes to the advertised show.

5. we cannot change any names on the guestlist.

6. we cannot process any exchanges or refunds for your album/ticket after the event.

7. all physical copies of the album need to be collected from resident (27-28 kensington gardens, brighton) by 31st december 2021 as we do not have room to store stock long term. any items uncollected by this date will be disposed of (in a kind & ethical manner!) – or more likely donated to a good cause.

8. please arrive in plenty of time to get into the venue (there may be queues), buy a drink, put your coat in the cloakroom etc. celeste will be on stage promptly.
9. as this is a 14+ event, please bring id if you think you might need it to get served at the bar.
---
for disability access requests, please contact [email protected]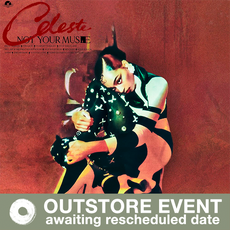 *** please read all terms & conditions before placing your order. questions can be emailed to
[email protected]
***

CD / tape
1. Ideal Woman
2. Strange
3. Tonight Tonight
4. Stop This Flame
5. Tell Me Something I Don't Know
6. Not Your Muse
7. Beloved
8. Love is Back
9. A Kiss
10. The Promise
11. A Little Love
12. Some Goodbyes Come with Hellos

Deluxe CD
1. Ideal Woman
2. Strange
3. Tonight Tonight
4. Stop This Flame
5. Tell Me Something I Don't Know
6. Not Your Muse
7. Beloved
8. Love is Back
9. A Kiss
10. The Promise
11. A Little Love
12. Some Goodbyes Come with Hellos
13. Father's Son
14. Lately
15. Both Sides Of The Moon
16. Strange
17. Unseen (Lauren Auder ft. Celeste)
18. In The Summer Of My Life
19. It's All Right (Jon Batiste ft. Celeste)
20. Hear My Voice
21. I'm Here
lp
A-Side
1. Ideal Woman
2. Tell Me Something I Don't Know
3. Not Your Muse
4. Beloved
B-Side
1. The Promise
2. Love is Back
3. A Kiss
4. Some Goodbyes Come with Hellos
12 track lp
Side A
1.Ideal Woman
2. Strange
3. Tonight Tonight
4. Stop This Flame
5. Tell Me Something I Don't Know
6. Not Your Muse
Side B
7. Beloved
8. Love is Back
9. A Kiss
10. The Promise
11. A Little Love
12. Some Goodbyes Come with Hellos
"'Not Your Muse' is the power I found when I felt powerless...In making this album I have allowed myself to arrive at a place where I feel empowered, fiercely wide-eyed and fulfilled. I'm very proud of what I've achieved on my debut album and to be in this position, after the year that has been, I feel nothing but gratitude and excitement. I hope you enjoy it…" Celeste (December 2020)
Disco Bag edition :