Tune-Yards
SKETCHY.
4ad
---
The duo's fifth studio album is a vibrant, hook-riddled triumph of angular art-pop euphoria.
Tune-Yards' last release 'I can feel you creep into my private' life, was a self-reflexive question mark at the end of a decade of outspoken, polyphonic indie music. From 2009 to 2018, Tune-Yards (both Merrill and her partner and collaborator Nate Brenner) released four critically acclaimed albums, travelled the world relentlessly to play live shows, and composed the psychedelic score to Boots Riley's surrealist cinematic masterpiece Sorry To Bother You. "We had really been non-stop hustling," Merrill reflects. "And when we're hustling, we're complicit in all of the systems that I really don't believe in."
Interrogating these systems and her role within them had left Merrill feeling heavy with grief and lost about how to move forward. The duo pressed on, inspired by the Beastie Boys Book and Questlove's Creative Quest, and began jamming daily for hours in their home rehearsal studio "like athletes". They ditched computer screens for live instruments (Merrill on drums, Nate on bass) and before long full songs started to emerge.
Unlike the lyrical introspection of previous outing I can feel you..., on sketchy. Merrill balances self-inspection and reflection with bombastic rallying cries, reminiscent of the furious tones of early days Tune-Yards. The result is a colourful and joyous record with lyrics that cut to the bone. "I started remembering that people come to us to be entertained, to move, to feel joy. And together, I think, we can wake up."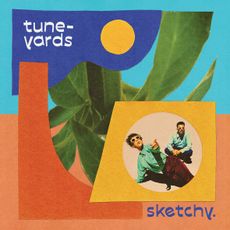 Tracklist
nowhere, man
make it right.
hypnotized
homewrecker
silence pt. 1 (when we say "we")
silence pt. 2 (who is "we"?)
hold yourself.
sometime
under your lip
my neighbor
be not afraid.