The Mountain Goats
Songs for Pierre Chuvin
merge
---
Returning to his roots, john darnielle cracked out a compelling set of acoustic folk-rock zingers, soaked in the lo-fi lustre of the same boombox that launched his career.
A surprise cassette released April 2020, Songs for Pierre Chuvin is the Mountain Goats' first all-boombox album since 2002's All Hail West Texas. After selling over 4000 cassettes in a matter of minutes, the avid Mountain Goats fanbase has demanded more and merge records were happy to acquiesce! Praise for Songs for Pierre Chuvin: "Recording on the same boombox that launched his career, John Darnielle returns to his lo-fi roots for an album of alienation, ancient pagans, and making it through the year together." Pitchfork "Full of images fit for these dismal times and slogans suited to surviving them, Pierre Chuvin is an inspiring reminder of how much each of us has left to learn." NPR "[Songs for Pierre Chuvin] can be used to escape the present emergency—or, if the listener so chooses, to better understand it." The Atlantic "Songs for Pierre Chuvin is exactly what we've come to expect: big-hearted songs full of warmth and smarts, custom-built to comfort and to inspire." Bandcamp
Phoebe says "Last years surprise release from Mountain Goats is back this week on swirly pink vinyl and if you like lo-fi meanderings into history recorded on a boom box, you should probably check it out!"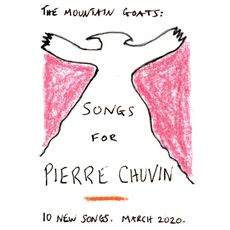 Aulon Raid
Until Olympius Returns
Last Gasp at Calama
For the Snakes
The Wooded Hills Along the Black Sea
January 31, 438
Hopeful Assassins of Zeno
Their Gods Do Not Have
Surgeons
Going to Lebanon 2
Exegetic Chains