other titles...
See also...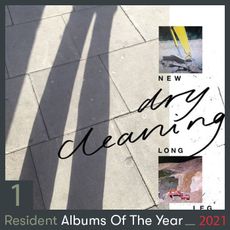 Scratchcard Lanyard
Unsmart Lady
Strong Feelings
Leafy
Her Hippo
New Long Leg
John Wick
More Big Birds
A.L.C
Every Day Carry
Dry Cleaning
New Long Leg
4ad
Era-defining poetry of the mundane.
An insightful collage of observations. A medley of meaningless buzz phrases. But it's more warmly resigned than judgemental and in fact at times, it's almost celebratory of the everyday. We're all experiencing and buying into this mess… together. And through the humour and humanity revealed in these sharp songs, the banal becomes beautiful… the tiresome is transformed to arresting… the overlooked is seen.

Sometimes it feels like our connection to a band is almost fated. Things just seem to fall into line – we're in the right place at the right time, overhear a significant conversation or make a connect that leads us to an abundant oasis. That's what happened for us Residents with Dry Cleaning & as the stars aligned, one by one we were IN. Entranced by their ruminations on daily doldrums delivered via the collectively understood Resident language of (post) post punk. From those early flirtations and head rushes, a deeply rewarding relationship has grown.

It all started with our trusty friend Tim (who has some of the best ears in the business) saying "Nat, you've got to hear this new band I'm working with" followed by Barney looking over Nat's shoulder as she opened Tim's subsequent email exclaiming "Ooo - is that Dry Cleaning? They really are excellent - you have to see them!", to handily checking the schedule whilst walking back to the shop during The Great Escape 2019 and realising a quick trip to The Walrus basement to see them was possible (littered with record label bods who clearly knew they had to be there), to then raving about them to everyone who would listen, to begging Tim to sort a tasty Dinked Edition pressing of the 2 EPs (what a coup!), to seeing them many times since between us, to nervously awaiting the arrival of their debut album proper once they'd won themselves a deal with the hallowed 4AD record label.

The band themselves came about in a somewhat fated way in the first place. The story goes that Dry Cleaning was formed by friends Tom Dowse, Nick Buxton and Lewis Maynard after a karaoke party in 2017 inspired a collaboration. They wrote instrumentally to begin with until six months later Florence Shaw, a visual artist, university lecturer and picture researcher by day - with no prior musical experience - turned up to a band rehearsal with a copy of Michael Bernard Loggins' "Fears Of Your Life" to read out over the music. It didn't take long for the then 3 piece to realise they had found their frontperson and soon Flo was contributing words of her own and serving as the perfect foil to the band's music.

Their engrossing concoction of limber post-punk & spit-in-your-eyes spoken word realism has grown in ambition and complexity and with producer John Parish in charge of translating the Dry Cleaning live show into recorded waves and grooves, "New Long Leg" is a triumph with Flo's spoken vocals tightly intertwined with the band's restless instrumentals.

Having risen so quickly on the back of a set of solid and very memorable songs, they've then delivered a debut album that contains none of that hype-worthy early material and have reset their own bar to a whole new level in the process. It's testimony to the strength of this band and hopefully signals durability - as we'll be wanting to continue to see and hear the world through their filter for a long time yet.

We couldn't have predicted that we'd spend our year singing about oven chips, reverse platform shoes, knitting circles, the horrible countryside, the big Sainsburys and llama plushies.

Flo laconically preserves our day to day experiences in lyrical formaldehyde and with the band's tight grooves and economical musical buoyancy, the ordinarily meaningless becomes anthemic.