Floating Points, Pharoah Sanders & The London Symphony Orchestra
promises
LUAKA BOP
---
A multi-generational collaboration pitting two giants of their fields together, with a sumptuous orchestra at their disposal! There's a peaceful loneliness ebbing throughout this exquisite album that feels fitting for a time many have spent in solitude.
This is Pharoah's first record in ten years (although it took five of those years to make) and the unhurried nature of its creation is at the heart of the album's magic. Originating from an improvised jam, Sam Shepherd (aka Floating Points) used his production wizardry to create an incredibly subtle, yet powerful, canvas for Sanders to stroll across. Like a lone figure emerging after everything has fallen silent, Pharoah Sanders' pensive tenor sax feels its way through a landscape of placid strings and synthy whispers. For the most-part, this record is hypnotic and feather-light; an enchanting odyssey into an idyllic fantasy realm. It's the ultimate sonic corner in which to escape from the world's troubles, drawing us deeper into it through Shepherd's twinkling refrains. Stick it on in the bath and those bubbles will have never felt so sweet. Pop it in your ears before bed and that fuzzy little head of yours will never have slept so contentedly.

Sanders' consummately expressive sax playing has us hanging on his every note, its lyrical quality communicating a narrative in a tongue that paints vivid images in our minds. Occasionally, the music bursts into sumptuous swells in which Sanders cuts loose with emotion - backed by The LSO's heavenly strings - breaking through the otherwise serene current that beguilingly drives the album forward.

This sublime meditation between the three parties has been an aural lifeline for us Residents– a refuge for us to shrug off anxiety and recharge in its rejuvenating waters.

ORLANDO: A smooth blend of jazz, classical and electronica from some of humanity's greatest musical minds, my favourite album of the year by a mile! Calculated, spacious and completely robbed of the Mercury prize, this seamlessly packaged, cross-genre collaboration is an instant and future classic, a sonic delight and a work every reasonable human should experience.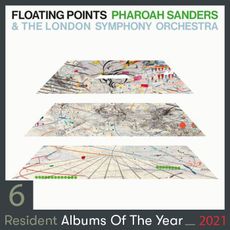 movement 1
movement 2
movement 3
movement 4
movement 5
movement 6
movement 7
movement 8
movement 9