other titles...
See also...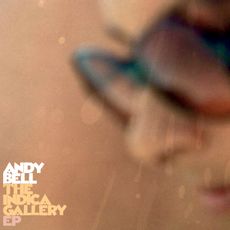 Indica (Pye Corner Audio Remix)
Skywalker (Pye Corner Audio Remix)
Cherry Cola (Pye Corner Audio Remix)
Love Comes In Waves (Pye Corner Audio Remix)
I Was Alone (Pye Corner Audio Remix)
Indica (Pye Corner Audio Remix – GLOK Re-edit)
ANDY BELL
the indica gallery ep (with pye corner audio)
Sonic Cathedral
Ride's andy bell has let pye corner audio loose on a choice selection of tracks from his 2020 solo lp, & the results are ear-wateringly good.
Five tracks from Andy Bell's debut solo album 'The View From Halfway Down' reworked by Pye Corner Audio, with one re-edit by Andy himself in his GLOK guise. "Each release in the series will be smaller in size than the last, so we start with a 12", then a 10", a 7" and CD," says Andy of the concept, "so that was the reason for the name 'Ever Decreasing Circles', a figurative and fond nod to the '80s Richard Briers sitcom. I like the idea that the EPs represent fainter and fainter echoes of The View From Halfway Down and, as such, can be visualised as water splashes reducing in size on a pond, much like the shots at the start of each episode of the sitcom! Pretentious, moi?" "Martin [Jenkins, aka Pye Corner Audio] has been top of my list of people to work with ever since a monumental night at the Social, late 2019. It was Sonic Cathedral's 15th birthday party and Pye Corner Audio was headlining, with bdrmm and myself playing live sets. It was a bit of a legendary night and, before it was over, Martin and I had agreed we would work together on something, sometime. I wasn't sure he'd remember the conversation, but luckily he did."
"We ended up setting the world to rights over a few beers and some questionable shots," says Martin, taking up the story. "One of the topics that came up was the possibility of working together in some form or other, and as a long-time Ride follower I was obviously in agreement. It gave me a great deal of pleasure working on these remixes and I think they're a fitting a companion piece to the album." "A highlight is his version of 'Skywalker'," says Andy. "It's not so much a remix, more a sparkling electronic makeover. However, I think the beauty of Pye Corner Audio is how Martin works with slower tempos and that's why I think he's done such a tremendous job with tunes like 'Cherry Cola' and 'Indica'.