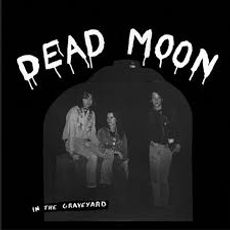 Graveyard
Out On A Wire
Can't Help Falling In Love
Parchment Farm
Dead In The Saddle
Hey Joe
Don't Burn The Fires
Where Did
Go Wrong
Remember Me
I Hate The Blues
Dead Moon
in the graveyard (2021 reissue)
Mississippi Records
The first LP by the great Dead Moon, a damn near flawless rock and roll record, back in print ! Originally released in 1988.
Dead Moon were a band that existed outside of the constraints that time and style usually impose on artists. An authentic mix of psychedelic rock, punk, blues, country, and every other American music worth a damn. This LP features all time classics such as "Graveyard" ( A 13th Floor Elevators type vibrating psychedelic song), "Don't Burn The Fires" and "I Hate The Blues." Lo-fi as hell. Remastered from the original tapes. We are very proud to make this LP available on vinyl once more. MONO! "We finally decided, 'Fuck this shit. Let's just play some old rock 'n roll" - Fred Cole
Max says "With all the energy of a litter of punk-puppies on acid, this album picks up right where the 13th Floor Elevators left off - only they've cranked it up to 11 and drenched it with buckets of refined garage punk sweat! You won't be finding much peace or love on this one..."