PAUL WELLER
Fat Pop
polydor
---
weller's 16th solo album is a vibrant blast of sunny mod soul and pop-rock, glittering with hooking choruses and paul's endless thirst for musical invention.
We may be cursed to be in the midst of a global pandemic, buffeted by all of its stresses and pain. But everyone knows that art provides succour, that music is the most reliable balm. And for many there is further significant comfort to be drawn from the knowledge that Paul Weller is in the midst of an unbelievably prolific purple patch. Paul Weller will not let us down when we need him most.
It's not hyperbole to state that this new album is among his most compelling collections, bar none, including all of his era-defining work in the 1970s and '80s with The Jam and The Style Council. It's an absolute scorcher!
When lockdown was declared in March 2020, Paul Weller decided immediately that he wanted something to focus on, since it seemed unlikely he'd be able to tour On Sunset as planned that summer.
"I had lots of ideas stored up on my phone," he explains down that same handset, speaking from outside his London home, "and at least this gave me an opportunity to develop them." So he started to record songs on his own, doing just vocals, piano and guitar, then sending those sound files to his core band members such as drummer Ben Gordelier, Steve Cradock on guitar and various other instruments, and bassist Andy Crofts for them to add their parts. "It was a bit weird not being together, but at least it kept the wheels rolling. I'd have gone potty otherwise."
The band reconvened at Weller's Black Barn studio in Surrey during the summer when restrictions were lifted to finish the work, with several of the songs being cut live. By this stage, the shape of the album was clear to all. Weller wanted to deliver an album of singles, twelve short, distinct blasts, each strong enough that they could stand alone if so desired.
"That was a conscious decision," he confirms. "I even thought about putting every song out as a single first then gathering them all on an album, but that wasn't practical at the moment. They all have that strength and immediacy, I think, and they're all short, three minutes or so maximum."
Producer Jan 'Stan' Kybert was so taken with the concept that he half-jokingly suggested that the album be called Greatest Hits. "I quite liked the idea and every song does stand up as a single, I think," chuckles Weller, "but no, we couldn't do that really."
Instead, he plumped for Fat Pop (Volume 1). "I thought we'd add Volume 1 to it just to keep my options open in the future for a second volume!" The title track, a tight, heavy blast of ultra-modern funk, is itself the conceptual key to the whole album. "It's a celebration of music and what it's given us all. No matter what situation you are in, and we're in one now, music doesn't let you down, does it?"
As ever, Weller's sonic masterplan was to avoid whatever had recently preceded it. "After [2018's] True Meanings I thought I wouldn't have any acoustic guitars for a little while, so I've largely avoided those with On Sunset and with Fat Pop," he says. "But more than anything I wanted something vibey, something we could play live." He laughs ruefully at the irony of that. "God knows when that will be, bearing in mind where we are with the virus. But in the imaginary gig in my mind I can see us playing all of the songs on Fat Pop live, along with the songs from On Sunset, blending them with some of the old favourites too. What a great set that would be."
Live is where he imagines On Sunset and Fat Pop (Volume 1) working in tandem, because they don't act as companion piece albums otherwise. "On Sunset was quite lavish in places, whereas with this one I wanted to limit it in some ways, make the production less expansive."
Beyond that desire to keep it frill-free and tight, sonically Fat Pop (Volume 1) is a diverse selection of sounds. No one style dominates. There's the synth-heavy, future-wave strut of Cosmic Fringes, the stately balladeering of Still Glides The Stream, Testify's moving-on-up soul, and the kind of dramatic three minute pop symphonies on Failed, True and Shades of Blue with which Paul Weller has hooked in generation after generation of devotee.
More than sonic plans, though, Weller set himself the same task as he does before any recording. "Whenever I make an album I'm always just trying to at least match what's gone before because each time I think the bar's been raised. If all goes to plan, sometimes I manage to go over that bar too."
Sometimes he does, sometimes he really does.
Fat Pop (Volume 1), the story behind each song:
Cosmic Fringes
A dramatic entrance to Fat Pop (Volume 1). Cosmic Fringes pairs a minimal, pumping electro swing with a deadpan vocal that detonates an unspecified poseur and blowhard. "I'm a sleeping giant, waiting to awake/I stumble to the fridge/then back to bed".
"It's not about anyone in particular," suggests Weller, "but I suppose it could be about a keyboard warrior, someone who is constantly brainstorming ideas but never gets around to doing them. Someone talking the talk, but never doing anything."
"When I first did the demo it was quite punky, a bit like The Stooges. It doesn't sound anything like that now because then I had the idea of stripping it all back to just the drums and bass, putting those synths on it. It's got a bit of motoric feel to it and a little bit glam rock too, I think."
True
A song with all the attributes of the greatest Paul Weller numbers: fire in its belly, questing lyrics, boss horns, flashes of guitar fury and a yearning melody you awake humming daily. It's also a tremendous vocal, shared between Paul and Lia Metcalfe, the young Liverpudlian singer with The Mysterines.
"I really like her band and I really like her singing," he says. "It makes a massive difference that we sang it live, in the same room. She's got a really powerful voice and I wanted to write something for us to sing together, so I did. Then I just sent the phone demo to Lia and two weeks later we cut it. That was one of the last things we did for the album, in around September".
Fat Pop
That brilliant, heavy bassline? "I did that. When we recorded it I was actually thinking about Cypress Hill, doing something that sounds like a DJ Muggs production. It's got a bit of that. It's my favourite song on the album, I think, about all the times music's been there for me."
Shades of Blue
A classic three-minute English pop kitchen sink drama, written by Paul Weller and his daughter Leah, who joins him on vocals. "Leah wrote the chorus for it and helped me finish it up. I wrote the verses. Reminds me of a suburban drama, a play."
Glad Times
Sweeping, wistful, sparkling in shades of blue, Glad Times' winning melancholia has been in the back of Weller's mind for a while. "I wrote this with Tom (Doyle) and Ant (Brown). They usually send me a backing track and we work on it from there. It's been around for a while, nearly made it onto On Sunset but didn't quite fit. I really liked it, though, so I'm really glad it made it on to this album instead."
Cobweb / Connections
Pastoral introspections, featuring a lovely acoustic solo by PW and a string score by Hannah Peel. "I think the song is saying that the more you can be yourself and be happy with yourself, the more you change into something better. It's not just good for you, it's good for everyone else as well. 'Save yourself and save everyone around you too.' It's from observation but I suppose it's about me too."
Testify
Superfly strutting, cut live in the studio with Andy Fairweather Low adding distinctive vocals and Jacko Peake on fine flute and saxophone. When allowed out of the house, it'll be a future live favourite.
"We had actually done it live two or three years ago," says Weller, "but while I loved the groove I never really got a grip on the song. Then I did this charity gig in Guildford, one of the last things I've done probably, some Stax songs with Andy Fairweather Low. Our voices sound so good together and he's such a lovely fellow, so I sent him the backing track. As soon as lockdown was lifted he came down to the studio for the afternoon. We cut it live and that was it."
That Pleasure
In amongst those soulful strings there is some barely contained rage in Weller's voice as he sings 'Lose your hypocrisy.' "I suppose it's my reaction to the whole Black Lives Matter movement," he explains. "You're always on tender ground writing about that, but, regardless of my colour, any human being should be disturbed. You should be appalled and disgusted and shocked by those images of George Floyd being killed in the street. It has to stop. It's a question for everyone."
Failed
'All the things I never get/and all the things I never meant/and all the things that make no fucking sense…I've failed.'
"Yes, I'm asking myself the question," admits Weller, a man who has never been afraid of self-reflection in his songwriting. "It's an angry song because I wrote it right after a massive row with my wife. But I like it. It's honest. It's not how I feel all the time, but it is how I feel some of the time. I'm just talking about me as a man. We all measure success in different ways."
It's also one of his favourite songs on the album, a stand-out.
Moving Canvas
A chunky, percussive groove, with the feel of Traffic but updated for the here-and-now.
"It's going to be great live that one. I wrote it about Iggy Pop. I hope he likes it if he ever gets to hear it. It's my tribute to him, even though it doesn't sound anything like him. Aside from all the great records he's made, as a performer he's high art. It's all about the Igster."
In Better Times
A plaintive plea with some beautiful sax and guitar breaks. "Cold in your eyes, don't you know you break my heart in two".
"It's me talking to a young person who is going through something, addiction or mental health pressure, or whatever, and just saying it'll be alright. Just get through this bit and there'll be better times to come, you'll look back and you'll see it differently."
Still Glides The Stream
A stately collaboration between Weller and long-time guitar foil Steve Cradock.
"I had the chords and possibly the melody, which I sent to Cradock. And he sent me back a poem and I edited that, then we sent it back and forth by phone. Lockdown songwriting. I just liked the poem. In my mind, I was thinking about our road sweeper who's a lovely fellow. I started thinking that there's so many people in this country who form the infrastructure of it and without whom we'd be fucked. But they're looked down upon, not really noticed. So I was imagining their story. I did find out that there's a book of the same name (by Flora Thompson) and Cradock said he had seen it in a shop, so that's where the title comes from. I just liked the poetry of it. Steve's a very soulful fella."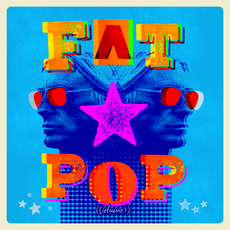 CD
Cosmic Fringes
True
Fat Pop
Shades Of Blue
Glad Times
Cobweb / Connections
Testify
That Pleasure
Failed
Moving Canvas
In Better Times
Still Glides The Stream
3CD Box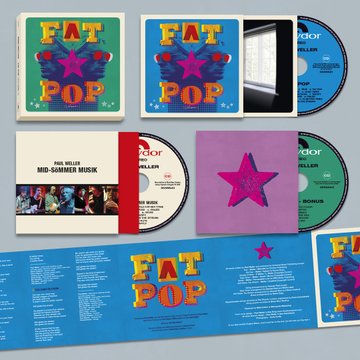 CD1 – Standard Album
Cosmic Fringes
True
Fat Pop
Shades Of Blue
Glad Times
Cobweb / Connections
Testify
That Pleasure
Failed
Moving Canvas
In Better Times
Still Glides The Stream
CD2 – Mid-Sömmer Musik
On Sunset - Live From Mid-Sömmer Musik, London / 2020
Old Father Tyme - Live From Mid-Sömmer Musik, London / 2020
Moving Canvas - Live From Mid-Sömmer Musik, London / 2020
Failed - Live From Mid-Sömmer Musik, London / 2020
Village - Live From Mid-Sömmer Musik, London / 2020
More - Live From Mid-Sömmer Musik, London / 2020
Testify - Live From Mid-Sömmer Musik, London / 2020
Still Glides The Stream - Live From Mid-Sömmer Musik, London / 2020
Rockets - Live From Mid-Sömmer Musik, London / 2020
Mayfly - Live From Mid-Sömmer Musik, London / 2020
CD3 - Fat Pop Bonus
Round The Floor
Serafina
Crowboy
Into The Sea
Pure Sound
Fat Mix
LP's & Cassette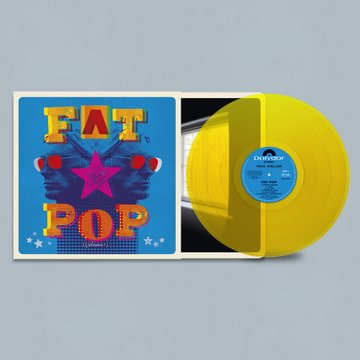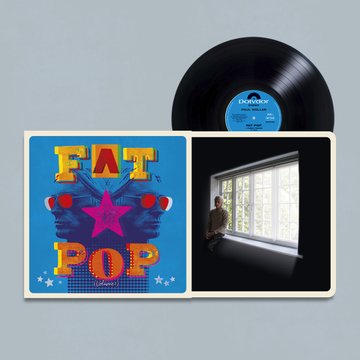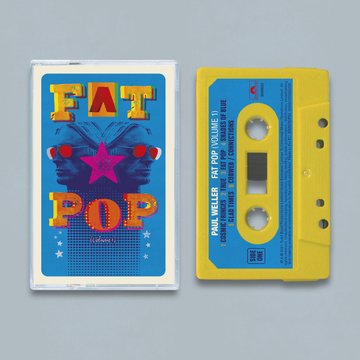 Side A
Cosmic Fringes
True
Fat Pop
Shades Of Blue
Glad Times
Cobweb / Connections
Side B
Testify
That Pleasure
Failed
Moving Canvas
In Better Times
Still Glides The Stream