GODSPEED YOU! BLACK EMPEROR
G_d's Pee AT STATE'S END
constellation
---
A ripsnorter of 1 minute punk rattlers.
Only kidding - it's a Godspeed record! These folks take their time & we worship 'em for it - gradually drawing us in with layered light touches that burst into caustic crescendos from amidst the manipulated orchestration.
The montreal collective's 7th album finds them excelling at what they do best - it's a labyrinthine masterpiece of hyperdynamic post-rock. The inimitable GYBE returns with another soundtrack for our times. As the heretical anarcho-punk spirit of the title implies, Godspeed harnesses some particularly raw power, spittle and grit across two riveting 20-minute side-length trajectories of noise-drenched widescreen post-rock: inexorable chug blossoms into blown-out twang, as some of the band's most soaring, searing melodies ricochet and converge amidst violin and bassline counterpoint. Field recordings and roiling semi-improvised passages frame these fervent epics, and two shorter self-contained 6-minute pieces find the band at its most devastatingly beautiful, haunting and elegiac. Poignant atmospherics, noise-drenched orchestration, drone, hypnotic swing-time crescendos, inexorably-layered towers of distorted clarion sound: STATE'S END encapsulates every beloved facet of the band. Twenty-five years on, this new album is as vital, stirring, timely and implacable as any in Godspeed You! Black Emperor's storied discography. Recorded and mixed by Jace Lasek, the veteran award-winning indie producer (and co-founder of The Besnard Lakes) who works with Godspeed for the first time on this recording.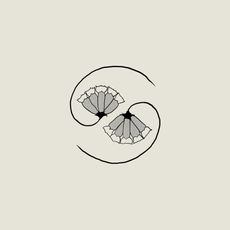 12a [20:22] A Military Alphabet (five eyes all blind) (4521.0kHz 6730.0kHz 4109.09kHz) / Job's Lament / First of the Last Glaciers / where we break how we shine (ROCKETS FOR MARY)
12b [19:48] "GOVERNMENT CAME" (9980.0kHz 3617.1kHz 4521.0 kHz) / Cliffs Gaze / cliffs' gaze at empty waters' rise / ASHES TO SEA or NEARER TO THEE
10a [5:58] Fire at Static Valley
10b [6:30] OUR SIDE HAS TO WIN (for D.H.)