PHOBOPHOBES
Modern Medicine
modern sky
---
Phobophobes new album Modern Medicine follows the band's critically acclaimed debut album Miniature World, released 2018 via Ra Ra Rok Records, which received the accolade of being 6Music's 'Album of the Day' following heavy support from Lauren Laverne, Steve Lamacq and Iggy Pop.
Press coverage was a who's who of tastemakers clambering to define their undefinable sound …."dark and dreamy" (DIY), "gothic" (Clash), "unique warped pop" (Best Fit); and live the band were invited to tour with Killing Joke including a date at London's Roundhouse, and a headline slot at the Rise Stage at Green Man Festival. All songs on Modern Medicine were written and arranged by Phobophobes** except 'Hallow Body Boy' which was written and arranged by Phobophobes and Jessica Winter. The album was produced by Phobophobes and recorded at El mirador Studios, Andalusia, Spain during the summer of 2018, mixed by Dave Emery at 'Assault and Battery,' and mastered by Nick Watson at Fluid Mastering. **Phobophobes current line-up consists of original members Jamie Bardolph Taylor (guitar, vocals), Jack Hussey (guitar) and Chris Olivares Chandler (keyboard, vocals), alongside new members Daisy Smith (bass) & Lisa Martin (drums). Due to recent line-up changes the latter two musicians do not feature on Modern Medicine, instead credits include Nathan Ridley (drums/backing vocals) and Elliott Nash (lap steel/baritone guitar/keyboards/percussion), with additional appearances from Christo Mccracken (guitar/effects), Gamaliel Traynor (cello/violin) and Jessica Winter (keyboards on 'Holly Body Boy').

GEORGIA: This album feels like a disco with Dracula, a post- apocalyptic boogie, which is quite fitting for this year, I guess. The quintessential marriage of guitar music and synth heaven, perfect for the year that brought us back to the leather coats of New Wave.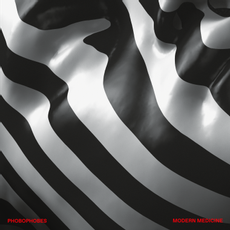 Hollow Body boy
Blind Muscle
Moustache Mike
The Negative Space
I Mean It All
Lick The Lid
Mono Into Stereo
Whisper
The Box
Give Them A Body
Muscle Memory