Gruff Rhys
Seeking New Gods
Rough Trade Records
---
Gruff set out to write a biography of Mount Paektu (an active Asian volcano) & although you'll learn little in geological terms, he somehow manages to convey a sense of awe through catchy colourful melodies, joyful wonk & subtle psych.
New converts a plenty from this triumph!
littered with timeless colourful melodies, warm wonkiness & subtle psych vibes, 'seeking new gods' is a religious experience in & of itself.
The album concept was originally driven to be the biography of a mountain, Mount Paektu (an East Asian active volcano). However, as Gruff's writing began to reflect on the inhuman timescale of a peak's existence and the intimate features that bring it to mythological life, both the songs and the mountain became more and more personal. "The album is about people and the civilisations, and the spaces people inhabit over periods of time. How people come and go but the geology sticks around and changes more slowly. I think it's about memory and time," he suggests of Seeking New Gods' meaning. "It's still a biography of a mountain, but now it's a Mount Paektu of the mind. You won't learn much about the real mountain from listening to this record but you will feel something, hopefully."- Gruff Rhys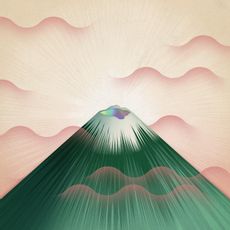 Tracklist
CD/LP

Mausoleum Of My Former Self
Can't Carry On
Loan Your Loneliness
Seeking New Gods
Hiking In Lightning
Holiest Of The Holy Of The Holy Men
The Keep
Everlasting Joy
Distant Snowy Peaks
Flexi Disc

Tropical Messiah
​
dinked edition 106

- Light Green / Dark Green Splatter Vinyl *
- Bonus Track Flexi Disc *
- 10" Signed Print *
- Mountain Die Cut Envelope
Style Sleeve Belly Band
- Machine Foil Numbered *
- Limited pressing of 1200 *
* Exclusive to Dinked Edition