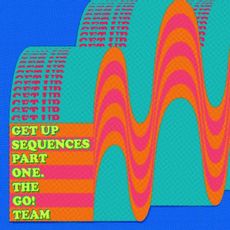 Let the Seasons Work
Cookie Scene
A Memo for Maceo
We Do it but Never Know Why
Freedom Now
Pow
I Loved You Better
A Bee Without its Sting
Tame the Great Plains
World Remember Me Now
Dinked 108
Ecomix recycled "lucky-dip" coloured vinyl *
Alternate sleeve artwork *
Signed & numbered print *
Limited Edition of 700 *
*Exclusive to Dinked Edition
The Go! Team
Get Up Sequences Part One
Memphis Industries
Imagine a giant kangaroo rampaging about a bouncy castle wobbling atop a swimming pool full of fluorescent jelly.
Well, you're still not even halfway to understanding how much of a joyous, playful treat this record is yet. Stick it on, get pogo-ing & find out for yourself!
Bright & chirpy bounce-fest from the Brighton collective that's sure to put a trampoline in your step.
On "Get Up Sequences Part One", Ian, Ninja, Nia, Simone, Sam and Adam have created a musical world distinctly of their own making. A place where routine is outlawed and perfection is the enemy. Where Ennio Morricone meets the Monkees armed with flutes, glockenspiels, steel drums and a badass analogue attitude. We're talking widescreen, four-track, channel hopping sounds that are instantly recognisable.
In The Go! Team's world, old's cool, the future's bright and melody is the star. Just check the second cut "Cookie Scene" with a bouncing flute and junk shop percussion it introduces guest rapper Indigo Yaj who delivers an old school vocal that continues this sonic trip. "Pow" channels Curtis Mayfield and enter stage centre, the inimitable Ninja in full flow and you don't stop, you wont stop to this flute driven free for all.
By way of demonstrating The Go! Team's old's cool manifesto, comes the 'needle-in-the-red' "I Love You Better" a defiant message to an ex love, spelling out exactly how he's fucked up – and then there's those steel drums. Following that comes the soda fountain soul courtesy of "A Bee Without Its Sting", a groovy protest song that makes its point with a tambourine – hey only The Go! Team.
The musical wagon train then takes you into the wide screen, wind swept western that is Tame The Great Plains heading off into a polyrhythmic panorama that's full of hope. Slappin' you back to reality comes "World Remember Me Now", a timely reminder that when you're lost in the routine of life, you can always count on The Go! Team.