other titles...
See also...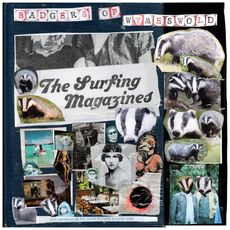 1.Joke
2. Locomotive Cheer
3. Pink Ice Cream
4. I Dreamed When I Was Young
5. Ten Days of Shiver
6. Running Scared
7. Bonsai Tree
8. Century Breaks
9. Badgers of Wymeswold
10. Nostaw Boogie
11. Sports Bar
12. Hard Times
13. Silver Breasts
14. Caribbean Ginger Cake
15. I'm Going Out Tonight To Play Some Pool
16. Poppies


dinked exclusive Bonus 7"

1. Turn Your Life Around
2. Gene Pitney


dinked edition 111

- Red Splatter + Brown Splatter 2LP *
- Gatefold Sleeve *
- Numbered Sleeve *
- Bonus 7" with extra tracks *
- Dinked info sticker *
- Limited pressing of 500*
* Exclusive to dinked edition
The Surfing Magazines
Badgers of Wymeswold
MOSHI MOSHI
The garage rock supergroup have actual tunes, are groovy and are uncool in the coolest possible way.
Garage rock supergroup The Surfing Magazines have announced Badgers of Wymeswold, out 29th March via Moshi Moshi Records. Consisting of one half of Slow Club and two thirds of The Wave Pictures, The Surfing Magazines' primary influences are Bob Dylan, The Velvet Underground and all the great surf guitar music of the 1960s. They burst onto the scene with their eponymous debut album in 2017, a lauded LP described by Record Collector Mag as "a vintage-yet-modern rock'n'roll classic". Mixing the noir surf textures of 1960s garage rock along with westcoast sun beaten harmony pop, the 17-track Badgers of Wymeswold follows the acclaimed debut and is to be released July this year. The London based foursome recorded the album at Ranscomb Studio in Rochester in February last year before the start of the first UK lockdown. Pushing their sound forward, the band utilise their garage rock ethic and have both Drummer Dominic Brider and Rhythm guitar player Charles Watso lead on vocals across multiple tracks. The album sees a return of free form saxophone parts, eerie violins and piano all appear, notably on tracks 'Nostaw Boogie' and 'I'm Going Out Tonight To Play Some Pool'. The title track is drawn from David Tattersall's nightmare vision about his home town's population of self governing people, the album artwork was also made by Tattersall and depicts a collage of his referenced dreams. The extensive LP showcases their characteristic sound at their brightest, from softer ballads such as 'Poppies' and 'Silver Breasts', surf guitar rock anthem 'Locomotive Cheer', and to the six bar blues 'Pink Ice Cream'.