other titles...
See also...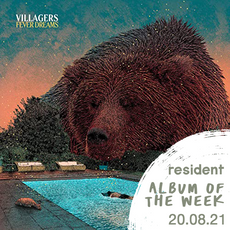 Something Bigger
The First Day
Song In Seven
So Simpatico
Momentarily
Circles In The Firing Line
Restless Endeavour
Full Faith In Providence
Fever Dreams
Deep In My Heart
dinked exclusive flexi disc

day one

dinked edition 118

- Light Blue coloured vinyl *

- Die-cut sleeve with 4 interchangeable covers

- Flexi-Disc featuring exclusive track 'Day One' *

- Signed & numbered Obi-Strip *

- Limited Edition of 1000 *


* exclusive to Dinked Edition
Villagers
Fever Dreams
domino
As one of the most talented & consistent songwriters around, Conor O'Brien is now at a point in his career where he can strip it all back, leave a skeletal core & it still feels generous, sonorous & lavish.
With the space for these songs & his voice to flourish, his 5th is cinematic
Conor o'brien's dive into the boundless scope of the subconscious has rewarded us with a fascinating and unique addition to his ever-beguiling oeuvre. Escapism is a very necessary pursuit right now, and Fever Dreams – villagers' 5th lp - follows it to mesmerising effect. It works like all the best records - it becomes a mode of transport; it picks you up from where you are and sets you down elsewhere. Coinciding with the announcement, O'Brien has also shared the first song from the forthcoming album, "The First Day". It was inspired by a trip to the fabled Another Love Story festival in County Meath – beginning as a snatched electronic doodle, it morphed into a widescreen, lushly cinematic evocation of the joy in human connection. O'Brien says on the gestation of Fever Dreams: "I had an urge to write something that was as generous to the listener as it was to myself. Sometimes the most delirious states can produce the most ecstatic, euphoric and escapist dreams." These are songs with the strange, melted shapes and the magical ambivalence of dreams. The intent of the songs is both mysterious and as clear as a bell. With Fever Dreams, there is a sense of a deepening mastery and an expanding reach by O'Brien. Inspiration for the album was found in many places and came in from all angles, from night swimming on a Dutch island to Flann O'Brien, Audre Lorde, David Lynch, L. S. Lowry via the library music of Piero Umiliani and Alessandro Alessandroni and jazz from Duke Ellington and Alice Coltrane. Written over the course of two years, the main bodies of the songs were recorded in a series of full-band studio sessions in late 2019 and early 2020. During the long, slow pandemic days, O'Brien refined them in his tiny home studio in Dublin, and the album was then mixed by David Wrench (Frank Ocean, The xx, FKA Twigs).