Tom Jones
Surrounded By Time (outstore)
emi
---
Resident & One Inch Badge present…

TOM JONES
live "outstore" performance
at Chalk, Brighton
(general admission, standing event)
Wednesday 15th September 2021
Doors 6:00pm, On stage 8:00pm (latest - please arrive in plenty of time)
18+.

As a condition of entry, before coming to this show, you must either:
Bring proof of a negative test result (PCR or Lateral Flow)

from a test taken up to 48 hours before the event, this can be a text message or email from gov.uk or via the NHS app.
OR

Bring proof of double vaccination

, with the 2nd dose being administered 2 weeks minimum before the event. This can be a NHS COVID Pass via the NHS app, official printed letter or your vaccine card from the vaccination centre.
please note:
we are past the deadline for adjusting any names on the guestlist & cannot process any more requests on this outstore.
>> all events tickets are non-refundable so please ensure you can definitely make the date before booking. if a show is rescheduled, you will have a deadline by which you will need to notify us if you are unable to make the new date.
>> this has been booked as a full capacity, non-socially distanced show.
>> please do not attend if you, or anyone you have had close contact with immediately prior to the event, have symptoms or have tested positive for covid.
>> you will receive an email from us a few days prior to the event confirming how the event will be running & if there are any changes to the operating policy or new requirements for entry
***tickets will not be posted - please select the pick up in shop option (but no need to collect anything from the shop as you will receive an e-ticket from seetickets a few days in advance of the show - our website just doesn't have an option that reflects this!) ***
---
as with all events at the moment, we are making bookings full of hope & optimism that they will take place, whilst also being prepared for the fact that they may need to be rescheduled. if this turns out to be the case, we will always guarantee that your purchase will still be valid for the new date.
---
terms and conditions

* please read the following before placing your order

1. this event will not have printed tickets. when you purchase a ticket, you will be agreeing to us passing on your details to the venue in order for them to send you an e-ticket a few days before the event. this will be a one-off occurrence and your details will not be retained. if you do not want this to take place, please contact us as soon as you place your order on [email protected] e-tickets are 1 per person - dupe orders will be refunded.

2. you will receive an automated confirmation that your order has gone through, followed by another confirmation within 24 hours once we've added you to the guestlist (please double check your email address is correct when placing your order and check your spam folder before contacting us if you don't receive this confirmation).

3. you will be able to collect the album from the shop once you've had confirmation that it is ready for collection.
- tickets are not physical and the venue will be issuing e-tickets. if you plan on ordering a ticket only option, please select 'pick up in shop' as your checkout option.

4. please read any subsequent communication you receive from us in case we need to notify you of any changes to the advertised show.

5. we cannot change any names on the guestlist after tuesday 7th september.

6. we cannot process any exchanges or refunds for your album after the event.

7. all physical copies of the album need to be collected from resident (27-28 kensington gardens, brighton) by 31st october 2021 as we do not have room to store stock long term. any items uncollected by this date will be disposed of (in a kind & ethical manner!) – or more likely donated to a good cause.

8. please arrive in plenty of time to get into the venue (there may be queues), buy a drink, put your coat in the cloakroom etc.
the artist will be on stage promptly.
9. as this is a 18+ event, please bring id if you think you might need it to get served at the bar.
---
For disability access requests, please contact [email protected]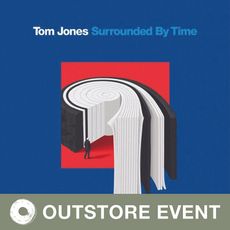 Tracklist
*** please read all terms & conditions before placing your order. questions can be emailed to [email protected] ***
I Won't Crumble With You If You Fall (Bernice Johnson Reagon)
The Windmills Of Your Mind (Michel Legrand/Alan & Marilyn Bergman)
Popstar (Cat Stevens/Yusuf Islam)
No Hole In My Head (Malvina Reynolds)
Talking Reality Television Blues (Todd Snider)
I Won't Lie (Michael Kiwanuka & Paul Butler)
This is the Sea (Michael Scott)
One More Cup Of Coffee (Bob Dylan)
Samson And Delilah (Tom Jones, Ethan Johns, Mark Woodward)
Mother Earth (Tony Joe White)
I'm Growing Old (Bobby Cole)
Lazurus Man (Terry Callier)
A decade ago in 2010, Tom Jones emerged clasping 'Praise & Blame' – a soul-baring collection that at long last unveiled his musical roots and lifelong affection for gospel and the blues. A decade followed with intriguing reveals via 'Spirit In The Room' and 'Long Lost Suitcase', reaffirming his unique gifts, his standing in popular music and bringing him to a hitherto untapped audience. Now, at the age of 80, Tom proudly presents his latest musical adventure, 'Surrounded By Time'.

Co-produced by Ethan Johns and Mark Woodward, 'Surrounded By Time' marks out new territory with a sonic landscape of outstanding musicianship and a vocal delivery that re-imagines a diverse set of songs of personal importance that have impacted the artist throughout a long, unpredictable but undeniably impressive career. 'Surrounded By Time' inhabits new ground, with 'Talking Reality Television Blues' a startling opener that catalogues the impact and changing role of television from its beginning to current times. A driving, almost menacing track accompanies a cool, spoken-word vocal from a performer who has an intimate personal and working knowledge of this cultural force. As Tom explains, "I was there when TV started -- didn't know I'd become a part of it -- but it could be that its power is to remind us how wonderful, crazy and inventive we are, but also how scary the reality it reflects can be." Accompanied by a dynamic video which charts the highs and lows of the past 70 years of cultural and social history, the film mirrors an extraordinary career that has spanned the decades, witnessing an artist striving to try new things without losing sight of what is important...the music.