other titles...
See also...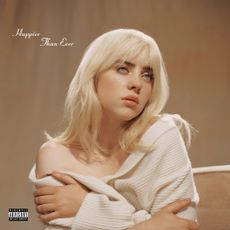 Getting Older
I Didn't Change My Number
Billie Bossa Nova
my future
Oxytocin
GOLDWING
Lost Cause
Halley's Comet
Not My Responsibility
OverHeated
Everybody Dies
Your Power
NDA
Therefore I Am
Happier Than Ever
Male Fantasy
billie eilish
Happier Than Ever 
INTERSCOPE
Billie's music is so sparse, so minimal, so understated that it's kinda ridiculous to think that it's the music of stadiums & giant fields around the world.
Ridiculous, but also brilliantly reassuring that this is today's pop music. With the ongoing help of her brother - Finneas - on production duties, this sibling-based duo shape slices of pure genius from a restrained sound palette. Production is crisp, clean & minimal, as it playfully dances around Billie's oh-so-subtle yet affecting vocals. These songs feel like a time-out – that sweet haven when it's all got a bit much. We can't imagine anyone being able to capture that addictive, zeitgeisty ennui that is so quintessentially Billie Eilish.

Billie's second lp is another trailblazing stunner, which could only have been created by the combined genius of Billie's songwriting knack and her brother finneas' spot-on production instincts. Billie Eilish has fast become one of the biggest stars to emerge since the release of her debut single "ocean eyes," and continues to shatter the ceiling of music with her genre-defying sound. Fast forward from her humble breakout in 2015, Billie's album WHEN WE ALL FALL ASLEEP, WHERE DO WE GO? debuted at No. 1 on the Billboard 200 in the U.S as well as 17 additional countries around the world upon release. WHEN WE ALL FALL ASLEEP, WHERE DO WE GO? was written, produced and recorded entirely by Billie Eilish and brother FINNEAS in their childhood home of Los Angeles.