Homeshake
Under The Weather
sinderlyn
---
Peter Sagar — also known as HOMESHAKE wrote the majority of his fifth studio album, Under the Weather, in 2019, when he was going through a long, unrelenting period of sadness.
"I was in a deep, deep depression," he recalls of that time period now. Sagar and his partner were living in Montreal, and while everyone was out being social, he was inside listening to ambient music, binging Star Trek, and writing songs. (Sound familiar?) "It was a bit of a dark pit," he says. "That's kind of what the whole album is about." Under the Weather is hazy and moody, the pace slow as syrup, and from beginning to end, a fog falls over every synth and guitar line. "Oftentimes when you're in a dark place, you're supposed to journal and that helps release the pressure," Sagar says. "For me, it always found its way into the music." Capturing the cloudy sound of a depressive funk was no simple feat, especially in the headspace Sagar was in for over a year. For that reason, he decided to enlist his friend, Jerry Paper 's Lucas Nathan, to help with production on the record. Having Nathan contribute helped Sagar dial back some of the "dry, pristine digital sound" that defined his fourth studio album, Helium , and add back personal analog touches that drew people to the HOMESHAKE project in the first place. As Sagar readies for the album's release this September, the record he wrote about feeling isolated, alone, and despondent has begun to seem eerily prescient. "I've been writing about feeling isolated my whole life," he says — but with age, he has come to understand them better. "I had a fairly clear idea what the album was going to be like based on where I was emotionally at the time," he says about Under the Weather . "I just try to make music that is honest about how I'm feeling."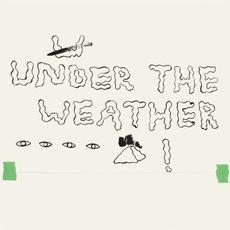 Tracklist
Wake Up!
Feel Better
Vacuum
I Know I Know I Know
Inaminit
Careful
Mindless
Spend It
Half Asleep After The Movies
Passenger Seat
Tenterhooks
Reboot!