sonny burgess
ROCKS
BEAR FAMILY RECORDS
---
Albert Austin Burgess ‐ in short 'Sonny' ‐ was an icon and a crowd favorite for generations of Rockabilly fans worldwide.
Active in the music scene for decades, Sonny exuded the energy and playfulness of the early rockers like no other.... just like when it all began... We Wanna Boogie!  Bear Family delivers the first cross‐label CD compilation of Sonny Burgess' recordings from the fifties to the new millennium!  Including his outstanding Nashville recordings from the Moondog Studios.  Legendary New England sessions with Dave Alvin of The Blasters and others.  Most importantly, Sonny's terrific version of My Heart Is Achin' For You, a chart hit for Rosie Flores, written by James Intveld.  Top‐notch rockabilly numbers from his Chicago‐produced album with top Windy City musicians.  And of course Spellbound ‐ the rare US studio version recorded in Arkansas, now on CD for the first time.  Plus the essential original masters for Sun Records including rare alternate versions.  Finally as a bonus track a rare US Live recording with Larry 'Honey Bun' Donn (late 1950s/early '60s) ‐ with the pure energy of the Pioneer rocker  Liner Notes by UK expert and researcher Martin Hawkins.
Long overdue ‐ and now finally compiled and released by Bear Family: the comprehensive tribute to a great pioneer of rock 'n' roll, Sonny Burgess. He came into the world May 28, 1929 as Albert Austin Burgess in Little Rock, Arkansas, and remained active well into the new millennium. His studio career as an independent artist began in the 1950s with Sun Records in Memphis and took him across the U.S. to Nashville, Chicago, Arkansas and New England over the next fifty years. Our CD compilation is not content with reissuing his early Sun rockers. We've culled the best numbers from that era, some in excellent alternate versions, from the Sun archives. But we continue Sonny's story with, among other things, the outstanding recordings featuring Dave Alvin of the Blasters, and and and ... Throughout his life, Sonny Burgess was synonymous with the power of rockabilly and rock 'n' roll; he became an icon for several generations of rockabilly fans worldwide. With our CD album you can go on an exciting time travel through several rock eras. We Wanna Boogie!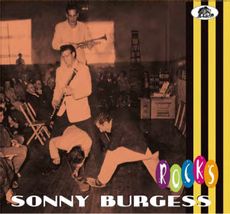 Tracklist
Big Black Cadillac
Lookin' Out For Number One
I Don't Dig It
My Heart Is Achin' For You
Stuck Up
Automatic Woman
Enough Of You
Didn't Know Love At All
Spellbound
Leave Your Lovin' At Home
Catbird Seat
I Used To Cry Mercy
Down The Road
Rock On Mars
Sadie's Back In Town
Ain't Got A Thing
Daddy Blues (alt. 3)
We Wanna Boogie
Ain't Gonna Do It (alt. 2)
Fanny Brown (alt. 1)
My Bucket's Got A Hole In It (alt. 2)
Feelin' Good
Red Headed Woman
The Prisoner's Song (alt. 1)
Gone
Truckin' Down The Avenue
Little Town Baby
Tomorrow Night
Swingin' (instrumental)