other titles...
See also...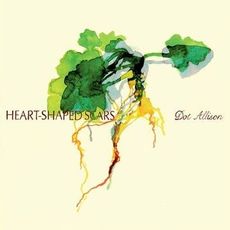 Long Exposure
Can You Hear Nature Sing?
The Haunted
Ghost Orchid
Entanglement
Constellations
Love Died In Our Arms
Forever's Not Much Time
Goodbye
Cue The Tears
One Love
DOT ALLISON
Heart-Shaped Scars
sa recordings
Don't be too fooled by the gentle exterior - this honey-voiced dream-folk-er ever so softly enwraps unsettling themes within her delicate notes foraged from a calming forest that must surely exist only in shared dreams.
Having taken time out to raise a family, Dot Allison returns with Heart-Shaped Scars, her most realised and illuminating album – and there have been several significant predecessors to compare it to. Allison will always be identified with the band that initially launched her, One Dove, whose Andy Weatherall-produced album Morning Dove White became a downbeat electronic landmark, but her own albums and collaborations amount to a much more significant body of work, with a commanding range across genres and narrative ambition. "The records that I have made were more like a window into my world," she says. None more so than Heart-Shaped Scars, which gathers many threads of Allison's broad interests – not just musical but literary, philosophical & her interest in science and nature. Framed by a backdrop of exquisitely sparse and intoxicating dream-folk and Allison's vocal at its most ethereal, the album is, "obtusely, a concept album," she reveals. "Love, loss and a universal longing for union that seems to go with the human condition." Tranquil in sound and passionate in spirit, Heart-Shaped Scars is also Allison's most personal record yet. Since her debut solo album Afterglow in 1999, Allison has strived to, "keep the listener on a journey – and myself too. I revolt against what I have done before, to evolve and not just occupy the same space." That journey has taken her from Afterglow's broad church (trip-hop, Tim Buckley-esque ballads, dance tracks, chilled psychedelia) to the sultry synth-pop of We Are Science (2002), the lush, baroque Exaltation Of Larks (2007) and the eclectic, rootsy drama of Room 7½ (2009).