other titles...
See also...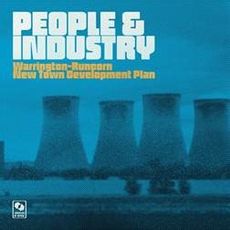 Fanfare For The Working Man
Built By Robots
Petrochemical
This Is The Age Of The Train
Man And Manufacturing
Part Of The Union
Polytechnic
Eye See Eye
Managed Decline
Aerospace (bonus)
Industrial Zone (bonus)
WARRINGTON-RUNCORN NEW TOWN DEVELOPMENT PLAN
People & Industry
castles in space
With synthesisers and plugins buffed until they sparkle this follow up to the 'Interim Report' expands WRNTDP's sound into a tight yet exploratory miasma.
Gordon Chapman-Fox returns to Castles in Space with a second volume of stately electronica from his Warrington-Runcorn New Town Development Plan project. How has Chapman-Fox approached the creation of the new album? GC-F "The album picks up where the first left off, really. Musically, "People & Industry" was recorded back to back with "Interim Report, March 1979". There is a progression in the sound, but it's definitely cut from the same cloth as the first album. It still very much exists in this euphoric melancholy (or melancholic euphoria) that seems to be my signature. This time however, the theme is very much to celebrate the workers and industry that was absolutely booming around Warrington, Widnes and Runcorn in the late 70s. From coal mining, to chemicals, to cars, the area was an absolute hive of industry. Some of those businesses are still very much in the area, but a lot has changed since then. This album, much like the first, looks back to look forward. It is is nostalgic but with 40 years of hindsight. Given the success of the debut LP and the weight of expectation on the new one, has it been difficult to follow up "Interim Report"? GC-F: I think I expected so little of the first album, its success has been such a surprise. It's made me go back and re-evaluate this new album. I've gone back to my original recordings and reworked tracks, added new instrumentation, made fresh mixes and so many little tweaks to make it as good as I can. The album has been resequenced, a new track added from my original submission to Castles in Space, and extra bonus tracks created as Bandcamp exclusives. It's had a lot more time and a lot more thought put into the music. I think I also went through about 10 different versions of the artwork. I just couldn't settle on any one design. "I was completely bowled over by the success of "Interim Report, March 1979". The whole concept seemed to me to be so niche, I had no idea it would become so popular. It really seems to have struck a chord with so many people who grew up and lived in new towns, I've had people contacting me saying it sounds like the soundtrack to their childhood. People who grew up in Warrington and Runcorn have been in touch, from illustrators to professors, telling me about how this music brought their memories back. That's really touched me, to go from making something all by myself, and sounds quite cold, and to have it resonate with so many people, and with such warmth, has been incredible." Your sound is ultra distinctive. Is there one instrument or piece of equipment that's crucial to the WRNTDP sound? GC-F: "My set up is about a 50/50 mix of hardware and software synthesisers. The Prophet synth (both my hardware and software emulations) is a pretty central instrument to the sound. Beyond that, if there is one thing that defines the sound, it's gallons of reverb. I mainly use Valhalla VintageVerb, because it can do everything from the subtle to the completely overblown sound that decays into the infinite." "Interim Report, March 1979" mercilessly evokes the golden age of Brutalist town planning, with dystopian analogue synths conjuring images of graffiti-covered subways, desolate multi-storey car parks and crumbling branches of C&A." Bob Fischer, Fortean Times.