other titles...
See also...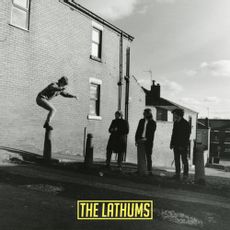 Circles Of Faith
I'll Get By
Fight On
How Beautiful Life Can Be
The Great Escape
I Won't Lie Side B
I See Your Ghost
Oh My Love
I'll Never Forget The Time I Spent With You
I Know That Much
Artificial Screens
The Redemption Of Sonic Beauty
the lathums
How Beautiful Life Can Be
island
Anthemic and rousing rock from these Wigan mischief-makers who are undoubtedly set for the biggest of times.
It's a brand-new version of mega-streaming, fans' favourite The Great Escape and an appearance as weekend traders on Wigan Market that heralds the keenly-anticipated arrival of The Lathums' debut album!. Titled How Beautiful Life Can Be, the summer-spanning countdown to all 12-tracks being finally available to the band's loving legion of fans is now underway.
How Beautiful Life Can Be, recorded at Parr Street Studios, Liverpool. In the company of producers, James Skelly and Chris Taylor, pushes The Lathums' remarkable story into the next, even more exciting phase. The Great Escape, having been previously self-released by the young band, emerges from the album sessions in sparkling, new form, whilst retaining the melodic stardust that caused the first rumblings of the social-media led stampede to their early gigs. Kick-started by growing pains and life's unlucky twists, fuelled by the simple salvation of six guitar strings and supercharged by the fans that found them slogging their gear into the north of England's pubs and small venues, The Lathums story may turn out to be the perfect not-all-nice-guys-finish-last tale. For a band whose singing songwriter had never been to a gig before playing his own, yet incomprehensibly carried a trunk load of sensitively-crafted, empathetic, sing-a-long anthems straight into their first rehearsal, The Lathums have flown at nosebleed speed to where they are now.