other titles...
See also...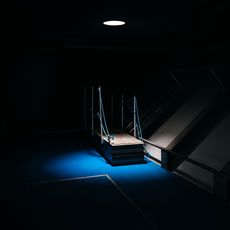 Return to Capital
Šibensko Powerhouse
A Song for Those Who Speed in Built-Up Areas
Haneke'd
Austere Isle
Jargoncutter
Stadium of No
Power Out for the Kingdom
Northwood Turret
Nonessential Hymn
dinked 137


- Blue sparkle coloured vinyl *

- Bonus 7" (1 part of 4 part 7" series) *

- Signed 'Other Manoeuvres" Photo Book insert *

- Numbered Dinked sticker*

- Limited Edition of 500 *
* EXCLUSIVE to Dinked Edition


JOHN
Nocturnal Manoeuvres
BRACE YOURSELF RECORDS
Pure rambunctious botheration from this pair of right rabble-rousers.

They kick off in full-blooded form & they don't take their foot from the accelerator until we're flat-out, fumbling for words & desperate to catch our breath thirty odd minutes later. Joyous stuff!
Great slathering noise from our fave local duo! If you've caught 'em live you'll have an inkling of the onslaught that is headed your way, but you still won't be fully prepared – brace theeselves. Nocturnal Manoeuvres' finds the duo expanding upon their celebrated idiosyncrasies once more. It sees them returning to their trusted producer Wayne Adams (who was behind the boards for both of their previous albums) knowing his success in capturing their presence as a live band. Realising the expansive quality of the resulting recordings, they then enlisted mastering engineer Sarah Register (Protomartyr, Future Islands, Chastity Belt) in order to deliver the sense of space that the varied track-list deserved. The result is a towering, titanic body of work – one that moves easily between cinematic post-rock, elastic post-hardcore and pummelling noise rock.