Nick Cave
B-SIDES & RARITIES (PART II)
Nick Cave Productions & BMG
---
Compiled by Nick & Warren, these 27 tracks are curated from 2006's "Dig, Lazarus, Dig!!!" through to 2019s "Ghosteen".
Rare, unreleased & first recordings – cast-offs for lesser beings but yet more treasures from these musical gods. Missed a trick in not calling it Nick Cave & The B-Seeds mind…
B-SIDES & RARITIES PART II was compiled by Nick Cave & Warren Ellis and features 27 tracks from "Dig, Lazarus, Dig!!!" in 2006 to 2019s "Ghosteen". Also features 19 rare and unreleased tracks including first recordings of 'Skeleton Tree', 'Girl in Amber', 'Bright Horses' and 'Waiting for You'.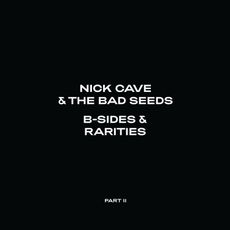 Tracklist
Hey Little Firing Squad
Fleeting Love
Accidents Will Happen
Free To Walk (With Debbie Harry)
Avalanche
Vortex
Needle Boy
Lightning Bolts
Animal X
Give Us a Kiss
Push The Sky Away (Live with The Melbourne Symphony Orchestra)
First Skeleton Tree
King Sized Nick Cave Blues
Opium Eyes
Big Dream (With Sky)
Instrumental #33
Hell Villanelle
Euthanasia
Life Per Se
Steve McQueen
First Bright Horses
First Girl in Amber
Glacier
Heart that Kills You
First Waiting for You
Sudden Song
Earthlings