lana del rey
BLUE BANISTERS
INTERSCOPE
---
The scope & grandeur of this record is too expansive to comprehend upon first listen.
It's a sweeping majestic journey that carries its listeners off their feet & hurls them headfirst into the melancholy of Lana's Los Angeles. A place to get lost. A place to leave. A place of shadows. A place where the past clings to you like a vengeful limpet. Despite all of this, there is redemption at the core of 'Blue Banisters'. Lana soars through her music, knocking future classics out of the park with an enviable ease. Like a cocoon-escaping butterfly, she emerges out of the other side with a strut & a swagger that marks her as the undisputed queen of pop chanteusery.
Lana refuses to stop delighting us with this 15-song-strong collection of tunes that further cement her reign as the ultimate queen of pop chanteusery.

lana del rey's 8th studio album, featuring the hits 'Blue Banisters,' 'Wildflower Wildfire' and 'Text Book'.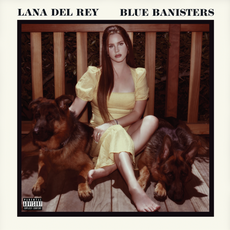 Tracklist
Text Book
Blue Banisters
Arcadia
Interlude - The Trio
Black Bathing Suit
If You Lie Down With Me
Beautiful
Violets for Roses
Dealer
Thunder
Wildflower Wildfire
Nectar of the Gods
Living Legend
Cherry Blossom
Sweet Carolina